Fantasy: October 19, 2016 Issue [#7916]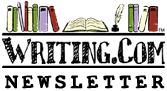 Fantasy





This week: What if....?

Edited by: ember_rain
More Newsletters By This Editor



1. About this Newsletter
2. A Word from our Sponsor
3. Letter from the Editor
4. Editor's Picks
5. A Word from Writing.Com
6. Ask & Answer
7. Removal instructions





I am, like you, a fantasy writer. I am also dyslexic. The overall purpose of any newsletter I write is to help inspire you to keep going in your current project or in starting a new one. If I can overcome my dyslexia to write, you can overcome the obstacles that stand in your way too.



| | |
| --- | --- |
| ASIN: B07RKLNKH7 | Kindle |



With National Novel Writing Month quickly approaching, I find myself thinking about how I started working on my Nano novel 5 years ago. The hubris, if you will, that inspired this long entangled story that has kept me busy for the last five years, (this November will make 6) is both a blessing and a curse. I keep asking, what if?

What if Vampires aren't the undead but genetically changed? What if the mythological creatures of old are real and managed to separate themselves from us by either going to another dimension or creating a shield of some sort that allows them to be where we are but doesn't let us see them? What if stories of the sleeping queens/princesses, were fictionalizations of reality forgotten? What if they aren't really in our world when they are asleep but in some special place in their own while they wander among us learning what they can about us? What if the plague broke out in the same area where one of these queens was living in our world?

As you can see for me what if is almost as important as why, or how. I think sometimes in writing, we forget that those basics we were taught in elementary school are still true, even in fiction.

Who:
What:
When:
Where:
Why:
What If:

Of course, Most teachers didn't add the what if. I had one that did because well what is the most common question out of a child's lips once they get old enough to stop asking why? It's what if., All 6 of my kids went from why, to what if, too is it weird. As young children we want to understand how it works so we ask why. As we get a bit older we wonder if something is possible based upon those original answers to why. Then as young teens and pre-teens, we wonder if we fit in or if we or our thoughts or something we saw fits into the world around us. These are some of the most important questions I believe my kids have ever asked of me.

It teaches them to think for themselves,to understand the world around them and to think outside of the box. Fantasy is anything but inside the box. By allowing ourselves as adult writers to go back and consider the possibilities of why and what if we can breath new life into dead stories, create richer plot lines, better-developed characters and build worlds only limited by our imaginations.

As writers, we are the last holdouts from adulthood. We can let our imaginations fly in any direction we wish them to go. All we have to do is ask... What if...







Descendants of Rose (13+)
Two mercenaries, a bard, a warlock, and a couple of ancient memories of an immortal lord.
#

2025126

by Antonia Ryder
The Red Caravan (13+)
Roughly 850 words, I wrote this in one evening. Any input and review welcome.
#

2099026

by Arthus
Dead King's Demise (13+)
In a burnt-down village, lies a diary with a short entry among its pages.
#

2098516

by Rustika
Those Well-Mannered Zombies (ASR)
I met some zombies by the lake.
#

1946470

by Teargen
One-Armed Bandit (ASR)
A search for an elusive thief.
#

1941587

by Teargen
Lucy in the Sky (ASR)
Way to go, Charlie Brown!
#

1918143

by Teargen



Have an opinion on what you've read here today? Then send the Editor feedback! Find an item that you think would be perfect for showcasing here? Submit it for consideration in the newsletter!
https://Writing.Com/main/newsletters/action/nli_form



Don't forget to support our sponsor!




| | |
| --- | --- |
| ASIN: B07P4NVL51 | Toy |



So do you ever ask what if?


| | |
| --- | --- |
| ASIN: B083RZ37SZ | |



To stop receiving this newsletter, click here for your newsletter subscription list. Simply uncheck the box next to any newsletter(s) you wish to cancel and then click to "Submit Changes". You can edit your subscriptions at any time.



This printed copy is for your personal use only. Reproduction of this work in any other form is not allowed and does violate its copyright.