Romance/Love: February 15, 2017 Issue [#8133]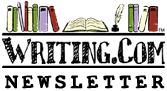 Romance/Love





This week: Compatibility

Edited by: Gaby
More Newsletters By This Editor



1. About this Newsletter
2. A Word from our Sponsor
3. Letter from the Editor
4. Editor's Picks
5. A Word from Writing.Com
6. Ask & Answer
7. Removal instructions



Romance is thinking about your significant other, when you are supposed to be thinking about something else.
~ Nicholas Sparks

Experts on romance say for a happy marriage there has to be more than a passionate love. For a lasting union, they insist, there must be a genuine liking for each other. Which, in my book, is a good definition for friendship.
~ Marilyn Monroe

A tramp, a gentleman, a poet, a dreamer, a lonely fellow, always hopeful of romance and adventure.
~ Charlie Chaplin

| | |
| --- | --- |
| ASIN: 1945043032 | |

Happy Valentines Day!



Finding true love in real life isn't as easy as in books. The characters have about 300+ pages to find each other, find some common ground, passion, to overcome a few hurdles, and then they're set for life. It only looks easy because it's a book and we always prefer the happy ending, no matter what the story.

Yet how do we figure out that our characters are compatible? Is their love written in the stars? They could be star crossed lovers from the past trying to fix a wrong. Millions of ideas spring to mind. Has astrology anything to do with how we as people fall in love? Does the same go for our characters?

Many will tell you that looks don't matter when it comes down to it, but they do. First it's the look, then it's that person's behavior, they way the carry themselves, their character in general. Someone will catch your eye because of those initial things. Then, once you get to know them, there may be passion and eventually love, but compatibility consists of all those mentioned above and more. Conversation is the key to anything. That includes romance. Body language can be a language on its own, and yet we also like to talk to that one person special to us. Want to know their thoughts, needs, loves and hates, what they're passionate about. It shows a way to figure out whether one is compatible with the other. Obstacles are a different matter.

Think about the many times you've had a crush on someone or actually fell in love? What made it happen? Even though people can be shallow at times, we always look for a deeper connection with someone. Perhaps we can't know what that person thinks at all times, but getting to know them on a more intimate level will help in that aspect.

The things we have in common with others can make that personal connection strong, or it can break because we see that, no matter what, it's impossible to establish a level ground with that particular person. Our characters come from us - even if they decide to take us on a ride - therefore we are passionate about them and want them happy. The goal is to find them someone who'll give them what they need, what they desire most, what they wish they had in their lives but has eluded them for the longest time.

Seeing how romance is in the air, perhaps you'll share some of your own stories with us!

'Til next time!
~ Gaby

Moon River (18+)
A tale of love and adventure.
#

2112275

by Royal Eduardo
Love Thy Neighbour (E)
John's life is turned around with the help of a mysterious neighbour.
#

2112107

by Dean Sharples
Invalid Item
This item number is not valid.
#

2112015

by Not Available.
Invalid Item
This item number is not valid.
#

2111907

by Not Available.
No Subject, No Sender (18+)
Happy Valentine's Day!
#

2112234

by Nitsua Asemed
Roses Are Red (18+)
But violets are definitely more interesting...
#

2075864

by Elle
Enduring Flame (13+)
A fiery passion until death, and past.
#

1533972

by Ben Langhinrichs



Have an opinion on what you've read here today? Then send the Editor feedback! Find an item that you think would be perfect for showcasing here? Submit it for consideration in the newsletter!
https://Writing.Com/main/newsletters/action/nli_form



Don't forget to support our sponsor!




| | |
| --- | --- |
| ASIN: B01CJ2TNQI | |


| | |
| --- | --- |
| ASIN: B01DSJSURY | |



To stop receiving this newsletter, click here for your newsletter subscription list. Simply uncheck the box next to any newsletter(s) you wish to cancel and then click to "Submit Changes". You can edit your subscriptions at any time.



This printed copy is for your personal use only. Reproduction of this work in any other form is not allowed and does violate its copyright.