Noticing Newbies: May 31, 2017 Issue [#8312]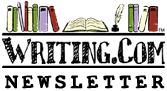 Noticing Newbies





This week: Write what you know... Sort of...

Edited by: ember_rain
More Newsletters By This Editor



1. About this Newsletter
2. A Word from our Sponsor
3. Letter from the Editor
4. Editor's Picks
5. A Word from Writing.Com
6. Ask & Answer
7. Removal instructions






As a dyslexic writer, I understand how scary it can be to put yourself out there for others to read your work. But, it is something every writer needs to do. Whether you're submitting to a publisher or posting here for the WDC world to see, you have to get over it eventually or die forever in obscurity with your children wondering why Momma/Daddy never did anything with their work.

The purpose of my newsletter is to entertain a bit if I can, but it is also to help you look at writing ideas as a new member you might not have thought of. To address issues every writer faces at some point in time so you know you're not alone. On occasion, I will throw in a WDC technical issue on how to find your way around here or the ML. What I won't do is give you something that bores me. Yes, I know there will be spelling mistakes. I won't use every their, there or they're correctly. I may spell collage when I mean college. But, what you will get are real answers to problems I have conquered and some I'm still struggling just like some of you.

My one and only goal is to help our new members feel like the belong because you do. Different ideas are welcome. Different styles are welcome and yes even if you have in the past spelled cat K A T out loud and thought you were right or struggle to let characters lead and the plot follow, you have a place here on WDC. None of us are perfect. We all struggle and we are all here to help each other in that struggle.

Friends have jokingly suggested that I drank the WDC kool-aide. I will happily agree. I did and I am so glad I did. Here is to all of our new members finding their writing home with us as well.



| | |
| --- | --- |
| ASIN: B01DSJSURY | |



I've been struggling as a writer. Well, let's face it with life in general here lately. I never really got a chance to mourn the loss of my father 9 years ago before my grandmother had died as well. That was quickly followed by the deaths of nearly 20 family members in a five-year time span on both my and my husband's sides of the family. I tried to cope. I buried myself in raising my children, trying unsuccessfully to learn how to garden without my grandparents to call for advice, to write novels that I would complete but never completely edit. What I didn't do was grieve. The few times I started to a child would come in and I couldn't stand the fear and pain on their faces because I was upset. So, I buried myself into anything I could find to do including throwing myself into the activities here on WDC. Most of them not requiring any writing at all.

I couldn't bring myself to write about what I knew. I couldn't bring myself to let that much feeling through. If I did I would crack and I knew it. So how to write about what you know without writing about what you know? There has been a lot of bad things happen in my life. Enough that I don't always believe it when I start talking about it. But, they all have a basic theme. When people aren't nice, when people aren't' considerate of others, when people don't see that we are all just alike on the inside, then the world becomes a darker place where people get hurt. So, that is what I know and that is what I write about. But, to do so directly would be hard.

I can instead write about a Werewolf that has been rejected by his family. A vampire that watched the love of her life burn when uncaring, people refuse to see reason and exposed him to the sun. I can write about a woman who seems to have been part of the forest for an eternity because she withdrew from the world so not to be hurt by it anymore while still being available to those who seek her out for advice.

My writing makes me more open minded to the pain of others. When I write about a little girl with a lazy eye being teased then I am really writing about that gay, transgendered, or merely different child who needs are love and affection more so than perhaps the normal everyday child who fits in with societies norms. It is my way of telling the world to be kind while assuring them it's alright to be different. I know, I am different. I have been different my whole life. It's not something anyone can point to. On the surface I seem normal enough but, I fall outside the norms of most people today. If for no other reason I am a 44-year-old woman who married straight out of highschool and I am still married to the same man with no intentions of ever changing that. I tried looking up the statistics once. The percentage of people like me in that category on the studies I saw was less than one percent in the US.

So, no I don't write about what I know. I have never been a little girl with a lazy eye. I was never a vampire, I was never a werewolf. But, I was teased, bullied, ignored, laughed at, told I was weird. My mother once said she worried about my being able to make it in the world but instead of trying to do that I made my own little world that works for me. She will never understand what it took for me to do that but I am a writer. I can imagine a world of peace and tranquility where everything is as it should be because everything always works out in the end. What I can imagine I can make happen be it in the pages of a story or in the real world. I can affect the real world with the pages of my story and perhaps reach someone who was bullied and reacts to it now by being the bully. Who knows but it will only happen because I can only cope with it, if I am writing what I know wrapped up in what I don't.

So don't ever be afraid to imagine what something might be like. You might find you are closer to the truth than you know.



Just a few of our newest newbies
When You're Early for Death (18+)
Writing Prompt: Death looks at your character. "You're early," Death finally says.
#

2123232

by Katie
Lusting With Fate (18+)
Story about primitive wants and actual needs.
#

2123230

by Christopher Jeremy
Nurse Julian (18+)
Julian is put into a tough predicament with a self destructive mother & a crazy father.
#

2123224

by LadySra
The lady and the hunter's prey (13+)
Flash Fiction for 5/28 keywords Music, Whisper and Note
#

2123164

by Michelle
It all began with a cut. (13+)
suicide is never the answer
#

2123158

by dallas
The Mask (GC)
A fictional story about hiding yourself. Told from the point of view of Victor Mendez.
#

2123150

by Emy Jones
The Aftermath (13+)
A woman's heartbreak
#

2123136

by E.C.Kohls
Forbidden (13+)
This poem is dedicated to the girl who I loved. She was just perfect for me.
#

2123099

by PurpleTrash
The Linkage (18+)
A dark mystery unfolds after a child watches a weird dream.
#

2123046

by vscivilisation
Invalid Item
This item number is not valid.
#

2123041

by Not Available.



Have an opinion on what you've read here today? Then send the Editor feedback! Find an item that you think would be perfect for showcasing here? Submit it for consideration in the newsletter!
https://Writing.Com/main/newsletters/action/nli_form



Don't forget to support our sponsor!




| | |
| --- | --- |
| ASIN: B07B63CTKX | |



So have you ever tried to write about something you have never experienced? If so how did it go?


| | |
| --- | --- |
| ASIN: 0997970618 | Book |



To stop receiving this newsletter, click here for your newsletter subscription list. Simply uncheck the box next to any newsletter(s) you wish to cancel and then click to "Submit Changes". You can edit your subscriptions at any time.



This printed copy is for your personal use only. Reproduction of this work in any other form is not allowed and does violate its copyright.