Short Stories: February 28, 2018 Issue [#8783]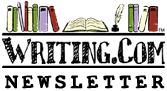 Short Stories





This week: Finding the Right Story Sparks

Edited by: Jay (away for a while)
More Newsletters By This Editor



1. About this Newsletter
2. A Word from our Sponsor
3. Letter from the Editor
4. Editor's Picks
5. A Word from Writing.Com
6. Ask & Answer
7. Removal instructions





This issue:
Finding the Right Story Sparks
Sometimes you have a good idea--and no idea what to do with it yet!



| | |
| --- | --- |
| ASIN: B01MQP5740 | Kindle |



As a writer, one of the things I struggle with the most is the process of sorting a story from

Cool Idea to
Actionable Story Plan.

Sometimes, it takes a while.
It can be really difficult to differentiate when something is just a Cool Idea whether or not it will work as a story at all! I think this is especially a problem for folks who write a lot of science fiction, fantasy, and horror in particular, but it can happen with anyone. It's that part of being a writer or creator where something cool or weird comes across one's field of vision and signals an inspiration--Wouldn't it be interesting if...

The biggest problem is--that's almost never, by itself, a story.

There is a defining spark, I think, in the moment between a mere Cool Idea and an actual story. The impact of the Cool Idea, for example--think about the many different ways your Cool Idea might affect different groups of people, for example. What does this change do for the world? What are the unintended consequences?

These things aren't a story, yet, either--but they're the sparks of it.

At this point, I usually like to investigate what kinds of characters would be most affected by that Cool Idea--if I don't already have some different characters in mind. (Sometimes my Cool Idea is a character themself! I think this happens for me more often than a plot element, but it really depends on where I got the idea.) How the characters will react and what they will do can be formed as you go, but you want to have some idea who the people in this story are going to be.

Once you have started to accumulate more elements to enhance that Cool Idea, it should become a little easier to string it all together--when in doubt, a three act structure will never let you down, and can be enhanced and complicated as you figure out the individual arcs and details.

If all of this has failed you and all you have is a Cool Idea instead of an actionable story plan--usually it means you aren't really done baking that idea yet.

Sometimes this can be very frustrating, especially with all of the emphasis on fast turnaround times with daily contests and the like--but don't fret! Save that stuff, whether it's in your memory banks, a Word doc, an Evernote file--set the cool bits of stuff aside because you never know when one of them might "click" for you because it's hitting you at just the right time!

Until Next Time,
Take care and Write on!
Jay

for more on three-act structure and the shapes of stories, I strongly recommend this vintage lecture from Kurt Vonnegut on YouTube:
https://www.youtube.com/watch?v=oP3c1h8v2ZQ (13+ for some mild humorous blasphemy)





This Issue's Picks!













Have an opinion on what you've read here today? Then send the Editor feedback! Find an item that you think would be perfect for showcasing here? Submit it for consideration in the newsletter!
https://Writing.Com/main/newsletters/action/nli_form



Don't forget to support our sponsor!




| | |
| --- | --- |
| ASIN: B00KN0JEYA | |



Feedback from "The Power of Seeing Yourself"
!


HWinB.C.
writes:
This was a great newsletter. Thank you for sharing it, Jay.

Thank you for reading it! It was both difficult and easy to write.
Jayne
writes:
Thank you for including my story in the newsletter Jay. It's funny that you mention learning to write for a wider audience. My piece you've included was my first attempt at : horror, pulp, short story, dialogue....because if you're going to try something new, go "all in" LOL. I was heavily influenced by both Stephen King and Tolkien growing up - my stories tended toward fantasy as I grew up, as they were more fitting for telling my kids. If I had to pick the story that influenced me the most though - it was when I was really young - it was "Wheedle on the Needle". I knew nothing about Seattle but it didn't matter. It taught me you bring a person somewhere they'd never been through story, AND it taught me poetry. I can still do the poem at the end by heart - 35ish years later (the teenage follow-up would be The Outsiders and where I got my love of Robert Frost). Not quite the impact Ursula had on you, but definitely set a strong path.

Aw! Wheedle on the Needle was a great book! I LOVED the Serendipity books and I consider them to be one of my influences, too!
What a great series with excellent messages. My personal favorite of that series was Lady Rose, the one about the otter who goes off on a great adventure... (I had to buy myself a new copy of that one recently because I was reminded of it during a similar conversation with another friend about influences. Anyway!)

It's really cool to dig into what shapes our urges to write--what gives us that spark. Something to cherish, I think!


That's all for this month! Please let me know if you have a craft question you'd like to see answered in one of my future NLs and I would love to give it a shot! I hope to hear from you.

All the best,
Jay


| | |
| --- | --- |
| ASIN: 1542722411 | Book |



To stop receiving this newsletter, click here for your newsletter subscription list. Simply uncheck the box next to any newsletter(s) you wish to cancel and then click to "Submit Changes". You can edit your subscriptions at any time.



This printed copy is for your personal use only. Reproduction of this work in any other form is not allowed and does violate its copyright.