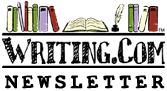 Romance/Love





This week: Adventures in Romance

Edited by: Lonewolf
More Newsletters By This Editor



1. About this Newsletter
2. A Word from our Sponsor
3. Letter from the Editor
4. Editor's Picks
5. A Word from Writing.Com
6. Ask & Answer
7. Removal instructions



Sometimes reading romance novels when you're in a very stressful situation can help you keep your wits about you and move you forward to develop more analytical reading skills and writing skills as well. Reading and writing romance fiction is one way to channel stress into a healing situation.

| | |
| --- | --- |
| ASIN: B07YXBT9JT | |

Romantic adventures incorporate adventure and action and keep the reader locked into a roller coaster ride of suspense. Often the best romance stories in this genre can and do, make for exciting screenplays and movies.

Romance within a story can make a story more interesting. It can satisfy a reader's curiosity to see whether this character will become romantically involved with that character. It can make a reader smile and enjoy the story more. It can also complicate plot lines for the benefit of the story. Many romance stories are also adventure stories. The adventure provides substance for the plotline, while the romance provides depth to the characterization.

Adventure romances can take place during any period of time, in any location, and include a collection of colorful characters. These principal characters are interesting and lively people whom the reader can easily identify with. In all romance stories, the central focus is on the complexities of the love relationship and the storyline. The ending is usually upbeat and satisfying on an emotional level.

Adventure romance writers carefully mix adventure with romance. Through a combination of the genres, the writer is able to create a satisfying array of excitement, romance, lust, love, with surprising twists and turns. There are new writers who enter the field daily and there are several time-honored authors who have carefully perfected the art of blending romance with intrigue.

Nora Roberts is one of the honored authors I mentioned. She has honed her writing skill to the point of being able to incorporate action, adventure, romance, and in some cases Mystery in the most addictive series that I have had the opportunity to read.


Nora Roberts' O'Hurley series explores the lives of Frank and Molly O'Hurley's children - the triplets, Abigail, Maddy and Chantel, and their brother, Trace. Roberts published all three "triplet" stories -The Last Honest Woman, Dance to the Piper and Skin Deep - between May and September of 1988. Without a Trace, their brother's story was added two years later in October 1990.

The Last Honest Woman

In The Last Honest Woman the middle triplet, Abigail O'Hurley, who married race car driver Charles Rockwell when she was just eighteen, is now a widowed mother of two sons. She opens her Virginia horse farm home to Dylan Crosby, the writer of her husband's biography. Abby has agreed to tell him the truth about her marriage, but she chooses not to reveal the whole truth. Dylan is determined to discover all her secrets.

Dance to the Piper

Dance to the Piper features the youngest triplet, Broadway musical star Maddy O'Hurley. Maddy's newest project has the financial backing of Reed Valentine of Valentine Records, a man to whom the impetuous Maddy is immediately attracted despite the fact that he is as emotionally reserved as she is expressive. Reed has also suffered an emotional trauma in his youth that he must resolve before he can return Maddy's love.

Skin Deep

Skin Deep picks up the story of the first-born triplet, the glamorous Chantel O'Hurley, who has found fame as an actress in Hollywood. Her film success, though, has attracted a stalker, an obsessive fan whose actions force Chantel to call on private investigator Quinn Doran for assistance. Quinn must identify the stalker before Chantel is harmed. Skin Deep also features a reunion of the triplets, as the now-pregnant Abby and her husband Dylan arrive for the wedding of Maddy and Reed.

Without a Trace

Before there were triplets, there was Trace. Trace O'Hurley, the older brother of Abby, Maddy, and Chantel left home early as a result of continuing disagreements with his father, Frank. Without a Trace finds him contemplating his future career after a life spent working as a spy. Dr. Gillian Fitzpatrick wants him to use his talents to find her brother and her niece, who has been kidnapped by terrorists because of their knowledge of the mysterious Horizon project. This novel also includes another O'Hurley reunion, this time for Chantel's wedding to Quinn.



~ ~ ~



I began the series with Trace because it caught my attention after my mother told me about it. I had no idea how much I would come to love it. Nora Roberts has become one of my favorite authors. I suggest if any of you have to the time read this wonderful series you will not be disappointed.











"Invalid Item"

"The Colonel's Liberty: Chapter One"

"D&C FT- It's Never Too Late"

"Delta 07"

"Encontrar la Libertad"



Have an opinion on what you've read here today? Then send the Editor feedback! Find an item that you think would be perfect for showcasing here? Submit it for consideration in the newsletter!
https://Writing.Com/main/newsletters/action/nli_form



Don't forget to support our sponsor!




| | |
| --- | --- |
| ASIN: 0997970618 | Book |


| | |
| --- | --- |
| ASIN: 0997970618 | Book |



To stop receiving this newsletter, click here for your newsletter subscription list. Simply uncheck the box next to any newsletter(s) you wish to cancel and then click to "Submit Changes". You can edit your subscriptions at any time.