This week: What is Your Poetry Why?

Edited by: RedWritingHood♡WDC
More Newsletters By This Editor



1. About this Newsletter
2. A Word from our Sponsor
3. Letter from the Editor
4. Editor's Picks
5. A Word from Writing.Com
6. Ask & Answer
7. Removal instructions



"There is not a particle of life which does not bear poetry within it."
Gustave Flaubert
"A good poem creates a world that somehow touches the reader. That world is built of images that come to the reader through vivid sense details and the music of vivacious language."
Paul Janeczko

| | |
| --- | --- |
| ASIN: B000FC0SIM | Kindle |








What is Your Poetry Why and Sharing That Why With Others




What is your poetry why?

What do I mean by your why—it's why you write poetry. If you've never analyzed your why it's a great reflective exercise and can be used in all areas of your life.



Why Identify Your Why?


--Gives you a sharpened focus

--Enhances your sense of self

--Helps you achieve your goals



--Here is a link to a worksheet to get you started: https://i0.wp.com/lifecoachingo.com/wp-content/uploads/2018/09/Cover.jpg



Some Examples of a Poetry Why


When I first started writing poetry I did it because I liked to learn new things and word play was fun for me. My why then could have been pure enjoyment.
Later, that enjoyment turned into a quest to learn as much as I could because I wanted to touch another soul with what I wrote, and to this day those are my personal whys of poetry.

You may simply need an outlet of stress, or you want to change the way people view the world or a specific idea about something.

What is your why? Take a moment and think about it. We'll wait.



Sharing Your Why With Others


So what do I mean by this? Yes, you can tell your friend why you write poetry, but that's not what I mean here.


I'm going to ask for some latitude here on this example, as I have a couple of presentations in the coming months, but they are with art not writing. Besides writing, I'm a photographer and artist. I've always been a creative soul and it branches out into several mediums. So my art whys are it's relaxing and, when I can, I incorporate recycled elements into my artwork--because taking care of the planet is important to me.

My first presentation is about why recycling and reusing is important and showing how I do that and with what in my artwork. My second presentation is on creating art for relaxation. This is how I am sharing my whys for creating art.


Do you have to have a formal presentation to share your why? Nope. You can read your poetry at a poetry reading or open mic night. If you write kids poetry, you may want to read to them at the library or local school. You may want to teach a poetry class, or just share your enjoyment of poetry, if that's your why.
Bottom line of sharing your why is sharing your love of poetry with others—be it small or large, formal or informal.



Enjoy creating a poem in the following form and practice your poetry why




Rictameter



MUST HAVES


--line count: 9

--meter: syllabic with a specific amount per line. The syllables per line are in the following format: 2, 4, 6, 8, 10, 8, 6, 4, 2

--Line one is the same two syllables as the last line, which means the poem will begin and end with the same two syllables.

--rhyme: none although you might be able to get away with some internal rhyme




COULD HAVES or WHAT IS THE POET'S CHOICE IN ALL THIS?

--number of stanzas, but usually there's only one unless you create a rictameter chain.
--topic, theme





SOURCE NOTES:

https://www.forbes.com/sites/margiewarrell/2013/10/30/know-your-why-4-questions-...
http://www.shadowpoetry.com/resources/wip/rictameter.html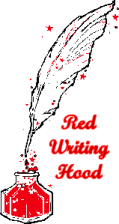 Theme: Rictameter








The Palms [E]
The palm trees wave in vain as I try my hand at the rictameter poetry form.
by Pony Tale



Have an opinion on what you've read here today? Then send the Editor feedback! Find an item that you think would be perfect for showcasing here? Submit it for consideration in the newsletter!
https://Writing.Com/main/newsletters/action/nli_form



Don't forget to support our sponsor!




| | |
| --- | --- |
| ASIN: B01MQP5740 | Kindle |





Have a question, answer, problem, solution, tip, trick, cheer, jeer, or extra million lying around?

If so, send it through the feedback section at the bottom of this newsletter OR click the little envelope next to my name RedWritingHood♡WDC
and send it through email.


Comments on last month's newsletter:


User: JCosmos

Comment: Here's my attempt at a diamante poem

Diamante

rum
dark rum
being drunk
drunken sailors
on a binge
dark rum
rum




| | |
| --- | --- |
| ASIN: B085272J6B | Kindle |



To stop receiving this newsletter, click here for your newsletter subscription list. Simply uncheck the box next to any newsletter(s) you wish to cancel and then click to "Submit Changes". You can edit your subscriptions at any time.