| | |
| --- | --- |
| | A terminal for all blogs coming in or going out. A view into my life. |
Started July 1st 2019 for contests, etc. as other blogs are filling up and have other purposes.

https://www.facebook.com/photo.php?fbid=605720872795874&set=a.422387367795893&ty...



I'm starting a new blog because
L'aura del Campo (18+)
Online journal capturing the moment and the memory of moments. A meadow meditation.
#

982524

by Kåre Enga, P.O. 22, Blogville
has over 1,200 entries and that's getting close to full. I don't want to trim it by deletion. I did that once, much to my dismay.


Hoarfrosts from Hell (GC)
Anything I'm not happy about or that I don't want in my main blog!
#

997339

by Kåre Enga, P.O. 22, Blogville
is still hidden from the public and will remain so. I don't post there often. It's more personal and full of angst.


Enga mellom fjella (18+)
Enga mellom fjella: where from across the meadow, poems sing from mountains and molehills.
#

1317094

by Kåre Enga, P.O. 22, Blogville
is full...

I'll be linking to
On The Write Path (18+)
ON THE WRITE PATH: travel journal for Around-the-World in 2015, 16, 18.
#

2032403

by Kåre Enga, P.O. 22, Blogville
as I need to post there about my travels.


O Pinions! (XGC)
May my opinions gather wind under their wings and fly, perchance to soar.
#

1501776

by Kåre Enga, P.O. 22, Blogville
is for my opinions.
Nurture your Nature (18+)
Look around. Let Nature nurture your Soul. I record images I sense and share them here.
#

1439094

by Kåre Enga, P.O. 22, Blogville
was set up for nature observations and musings.


Watt's Gnus (18+)
On topics and today's gnus. Definitely opinionated. Set to 18+ for a reason.
#

1439092

by Kåre Enga, P.O. 22, Blogville
come out of a need to share interesting stuff I come across. When I was young I did a small newsletter named as such. (or was it column in the newsletter? Been 30 years... I think.)


Flash Fiction (GC)
Short 300 word, more or less, "stories" .
#

2190336

by Kåre Enga, P.O. 22, Blogville
is where I put my flash fictions. Maybe someday I'll figure it out and have enough good ones to publish. Ratings vary and some are hidden from view.

I love to be prodded (poetically). I'll be trying on new forms to see whether they fit my portliness at The Ultimate Poetry Challenge and posting them in:
Andy's Poetry Prompts 2019 (13+)
52 forms. What will they be?
#

2192078

by Kåre Enga, P.O. 22, Blogville

llllllllllllspringlllllllllllllllll
llllllllllllllllllllllllllllllllllllllllllllllllllllllllllllllllllllllllllllllllllllllllllllllllllllllllllllllllllllllllllllllllll
lllllllllllllllllllllllllllllllllllllllllllllllllllllllllllllllllllllllllllllllllllllllllllllllllllllllllllllllllllll
lllllllll
llllllllllllllllllllllllllllllllllllllll
lllllllllllllllllllllllllllllllllllllllllllllllllllllllllllllllllllllllllllllllllllllllllllllllllllllllllllllllllllllllll
lllllll
lllllll
llllllllllllllllllllllllll
lllllllll
llllllllllllllllllllllllllllllllllllllllllllllllllllllllllllllllllllllll
lllllllll
lllllllllllllllllllllllllllllllllllllllllllllllllllllllllllllllllllllll
llllll
lll
llllllllllllllllllllllllllllllllllllllllllllllllllllllllllllllllllllllllllllllllllllllllllllllllllllllllllllllllllllllllllllllllllllllllllllllll
llllllll
lllllllllll
ll
lll
llll
llllllllllllllllllllllllllllllllllllllllllllllllllllllllllllllllllllllllllllllllllllllllllllllllllllllllllllllllllllllllllllllllllllllll
SPRING: 13 Baha 177 (1 April 2020)
O God! Refresh and gladden my spirit. Purify my heart.


'Abdu'l-Bahá
MY THOUGHTS

Either too few or too many. Read blogs and commented. Wrote. Hope to finish a book today. Oh ... and I'm not into April Fool jokes ... like ever ...but especially not this year, not now.


WEATHER
1°. midnight in Missoula

-4°. 8 a.m. in Tromsø in far northern Norway.

9°. in Fayetteville where my aunt lives.

14°. in Casablanca.


IMAGES

Snow mist sliding down the mountains this morning. Snow after noon. Shake-rattle-and-roll as my bed moved from the quake. One pink geranium in bloom.


POULTRY

"Unnamed boy in Memento Park" "April 1 prompt: historical object or theatrical prop"
PORK

One flash: "Star light, star bright (300 words)"
.


READING

Still reading "The Girl on the Boat" by a local writer, Danielle Lincoln Hanna.


QUOTE

"She was an observer. She took in everything around her. The question was whether she ever let the things she knew back into the world again." Baron about Bailey.


MY LIFE

Ate bean bacon soup. Wrote. Will read. Talked to neighbors after the quake. (Yeah, see below.) Looked at Portuguese again. I need to review grammar and build vocabulary.


SENIOR CENTER and
COFFEEHOUSE

Hanging at home. Instant with milk and brown sugar. Hot or cold. Doesn't matter to me! I also mixed up some tamarind with moringa and I'm drinking that. Trying to stay hydrated.


O PINIONS!

I revised some of my prompts for Elle from yesterday. Still working on them.


WATT'S GNUS

Headline: 'The floor was moving': 6.5 earthquake strikes in Idaho, largest in the state since 1983 Very strong tremors here in Missoula at 17:55. No damage that I know of but everyone felt it. This building was built in 1908 and the third floor definitely swayed.


BLOGVILLE DEUX

Three of my comments today:

Sorji
: Ideas either nag the hell outta me or they fly on by, waving, when I don't have a pen.

SB Musing
: I can social distance ... at a price. I need connections.
I can physical distance ... at a price. I want hugs.

Virtual on-line connections help, but for me it's not the real deal.

You reminded me how much I disliked school, how much I didn't want to be home, how much I withdrew.

Miranda Keening
: Among all the sadness there is joy. Me? Even when I'm depressed I see beauty ... faded beauty ... ephemeral beauty ... but, hey ... beauty none-the-less.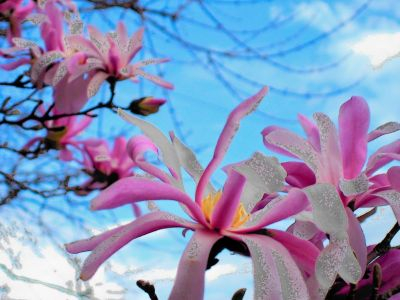 © Copyright 2020 Kåre Enga, P.O. 22, Blogville (UN: enga at Writing.Com). All rights reserved.
Kåre Enga, P.O. 22, Blogville has granted Writing.Com, its affiliates and its syndicates non-exclusive rights to display this work.
Printed from https://www.Writing.Com/view/1311011