Boomers Aging Not Gracefully...
An
Endeavor of Grandiose Proportions
SPECIAL SPRING EDITION
March 20, 2006
Edition Seven
Edited by:
It is my pleasure to be able to bring you the long-awaited interview with comedy writer Mark Solomon. Some of you have submitted questions for this, all of which Mark has graciously answered.
He also sent along this photo of himself with Broadway, and screen actress and singer, Shirley Jones. Many of you know her for her lead in "Oklahoma" as well as her television role as "Mrs. Partridge" on the series "The Partridge Family", as well as numerous others.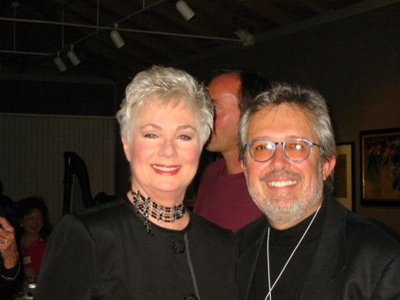 I have previously given a link (in my blog) for Mark's writing credits, but just to refresh you, some of his writing credits are, "Newhart", "Alice", and "Diagnosis Murder".
Without further adieu, I will just let mark speak for himself. Enjoy!
Interview with Mark:
Q. 1. When did you know that you wanted to be a writer?
A. I was a songwriter before I became a comedy writer.
Since my songs tended to be somewhat humorous, one thing led to another. Also, I realized comedy writers got paid MUCH MORE!
Q. 2. How old were you when you got your first paid
writing job, and what was it?
A. I was probably in my mid-twenties. I was in an improvisational comedy group in LA.. We were playing a club in Beverly Hills called the Daisy. Funny lady Ruth Buzzi came in one night, loved our show and asked me and my former writing partner to write her nightclub act!
Q . 3. What was your career before you became a writer?
A. I've had weird jobs. I sold tights, tap-shoes and tutus at a dance-wear shop in the San Fernando Valley. I also was a "Babysitter to the Stars!" Actually to the stars' kids! Lots of fun! Also made some nice connections!
Q. 4. Did you always know that you would be successful as a writer?
A. ABSOLUTELY!!! I was cute and funny!
Q. 5. Did you keep track of how many rejection letters you got before you got your big break?
A. I never got ONE rejection letter!! That's because, in
television, they don't send rejection letters. They
just hang up on you when you call!
Q. 6. Was it easier to write for well-established
characters, or did that make it more difficult
because you had to take into consideration already
used plotlines?
A. MUCH MORE DIFFICULT writing for established
characters! They have an entire history that you may not know about. When I took over as producer of
"NEWHART", for example, the show had been on six
seasons. I had seen maybe six episodes! I spent MONTHS watching old episodes, just to make sure I wasn't copying any storylines. I really enjoy writing pilot scripts where I create my own characters and my own world!
Q. 7. Did you receive any help in order to break into the business of tv writing? If not, what process did you go through in order to achieve it?
A. Unfortunately, I received very little help. I knew very few successful show biz people, maybe a few unemployed dancers or actors. It was a Catch22 situation. You needed an agent to get a job and you needed a job to get an agent! After years of struggling my writing partner and I wrote a spec (sample) script of new show that had just gotten on
the air..."TAXI." A friend read it, loved it, and
gave it to her friend who was a writer. She passed it on to her agent. He read it on a Thursday. We met him with the next day, and on the following Monday we had a meeting with a producer. BINGO! We got our first "Professional" writing gig!
Q. 8. Is Nada as entertaining in person as she is in Blogville?
A. Even more so!!! And she's cute, to boot!
Q. 9. Who is the most interesting person you have ever met?
A. An incredible painter named Denny Dent. I wrote a film about him. Still trying to get financing for it. Sadly, he passed away last year. He was 55 years old. Visit his website www.dennydent.com
Q. 10. Have you ever been to England? Do you think the English sense of humour is different to American? (Yes, some of us DO have one.)
A. Yes and Yes. I love England. Actually, my favorite
Comedies of all-time are British! FAWLTY TOWERS, AB
FAB, THE FALL AND RISE OF REGINALD PERRIN, MONTY
PYTHON and THE OFFICE. British shows are so much more character driven. I dislike most American sitcoms.
Q. 11. What do you think would be the problems for an English writer marketing humour in the States and vice-versa?
A. I don't think there would be any problem. Funny is funny.
Q. 12.) After you write a script, does someone else edit it? Or do they give you input and send you back to edit it yourself?
A. It depends. Usually, after the first draft, you're given notes and then you write the second draft.
Sometimes it's a COMPLETE REWRITE! That's why I like being an Executive Producer on the shows I write for....NOBODY MESSES MY WORDS!!! ......that is unless the star demands a new joke!! Then you crawl back to your office and give him what
he or she wants!
Q. 13.) Are there correlations between scriptwriting and mainstream fiction (writing novels), where you could give advice based on your experience?
A. I've never written a novel. They're tooooo long! I like writing 40 page scripts!
Q. 14.) When there is a large cast, does the team of screenwriters split up to write different segments, and, if so, do the same writers consistently write for the same characters?
A. No. A writer usually writes the first draft. Then sometimes, the script is read aloud and other writers offer joke suggestions. Even if the script has only a few of the original writer's lines left, he still gets screen credit (and residuals!) It's a little different for film screenplays. Comedies are usually written by slews of people! It's a terrible process.
Q. 15.) To keep storylines interesting, change is inevitable. How do you introduce change without compromising the formula that has made the show a success?
A. Very carefully!!! Sometimes change is good.
Introducing a new character adds new vitality and new storylines. Look at what they're doing on shows like "24" and THE SOPRANOS. They're killing off main characters left and right!! But, at the same time, adding new ones. It keeps the show from getting stale.
Q. 16.) Did you have anything at all to do with staging one of the most (if not the most) hilarious moments in TV history, when Bob woke up and told Emily he'd had the strangest dream? (We both assume since it was a different show, that the answer is no, but -- it was just such a cool moment.)
A. Yes. My writing partner and I wrote and Executive
Produced that episode, called "THE LAST NEWHART." It's taken on a life all it's own. TVLAND and TV GUIDE just aired a television special called "ONE HUNDRED MOST UNEXPECTED TV MOMENTS." That episode came in NUMBER ONE! ENTERTAINMENT WEEKLY magazine also named it the BEST TELEVISION FINALE EVER!
I'LL NEVER LIVE IT DOWN!!! ARRGGGHHHHH!!
**********************************************************
A big thank you to all who submitted questions for Mark. A special "thank you" to Mark for his time and the great photo.