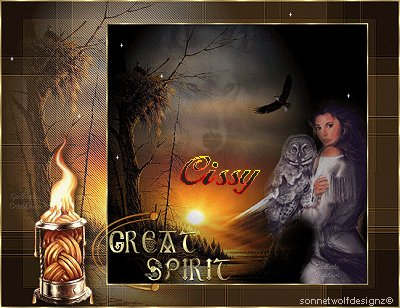 CISSY
Hello my name is Cissy, just a few things that I thought that might help you understand more about me and what makes me tick. First of all I was born 01/1959, I'm 49 years old. I am the youngest out of five children, but, by no means the favorite. I have been writing since I was eight years old, it was my form of escape from a brutal world of violence, it was my safe place to be that no one could invade or touch me there. Now I want to learn how to write good enough to one day be published. Being published isn't the most important thing in my life, but to write is.

My favorite colors are purple, yellow and green with a splash of turquoise thrown in. I love nature, sunrises and sunsets. I love to listen to the rain falling because it sound so soothing somehow.


I grew up with a brother and sister, my sister took care of me like I was her own, even though she was just three years my senior. She still cooked for me, made sure I took my baths, brushed my teeth and when I got old enough, took me to school. My sister was a person that I really looked up to, and I miss her more and more every day. She wasn't only my sister, she was my best friend, and a subsitute mom.

My big sister was a Insurance sales person here. At that time in her life I was living in Nashville, Tn. U.S.A. , while she lived in south eastern Alabama. In August of 1990, she was murdered by one of her clients while making a insurance run to pick up her clients monthly premium. I will not go into detail of how hideous the killing was, right now it is still too painful of a memory to relive, even though it's been almost 18 years.

My brother helped raise me too, trying very hard to be the father figure in my life. But I was closer to him in age, so like any child I rebelled, and would tell him," you're my brother! not my daddy! so you can't tell me what to do ! "

I have two grown daughters, one step-son, one granddaughter, and one grandson. I was a victim of abuse for the most part of my life, but with God's help I will survive, and go on with my life ... sometimes it get's hard to keep going but I do.

I was born with Epilepsy, nerve disorder, among a few other disorders that were not detected until later in life. I've had 7 major heart attacks, and have been in and out of the wheelchair since I was eight years old. I have a crippling desease that goes in and out of remission. The older I get the worse it gets and the longer it stays out of remission. But that is no big deal to me though, I can do anything from a wheelchair, no problem, and I'm used to it ... it's the pain that goes with it that get's hard to deal with at times. The pain and " all " those pills that I have to take everyday just to be as close to normal that I possibly can be. You see I was taught that what was wrong with me from a early age that it was no big deal, and if I didn't succeed in life then it was just because I
didn't want it bad enough.

As I was told so many times through out my life from my family, be glad that when I can stand that I at least have legs to stand on, some people don't, be glad that I can hear because a lot of people could not, be glad that I could see as much as I can, because a lot of people could not!, To remember these things, and I could see that I was blessed more than others. So if I didn't
achieve my goal whatever it was I sought for, then it was my own fault and because I didn't want it bad enough to fight for it to get it.


That is how I became a Medical phleb. lab tech. and I worked for 21 years before the doctors told me one day that I could no longer handle any job, just because of stress alone. That day I believe I cried for hours, then days, and that went into months. I was used to working eighty hours a week. Then it went from that to nothing, I felt useless, and not worth anything ... it didn't help that I had a low self-esteem so low that, if someone said that I dressed wrong, or my hair looked bad I'd cry and not want to go around anyone including my own family.


I believe the happiest day of my life was when, Febuary 11th, 2008 - I google searched one night and came upon this site called Writing.com. I clicked on it and I'm the better for it. Here I have found a family I never had, friends with an over abundance of love and kindness like I have never known... I found my life here.

My mother encouraged me to write, she said that it seemed I had a talent for it... of course she " would " say it, she was my mom! And mom's are suppose to tell their kid's things to up-lift them to keep them going... so no, I didn't believe in myself or my ability to write.

I always got A's in classes in English and writing but that was school, not college course. My degree was in medical. So I looked at my writing as a form of an outlet, release, and a safe haven for me. It has become my life now since I've gotten older, and it is also my sanity many days during the drepression times. I am thankful that I still have the ability to use my hand to write about things that touch me, that effect me and that I love to dream about too.

So I'm here now, I don't know if you'd call me middle aged or just old,
but either way, I'm here trying my wings, looking to fulfill a dream, a fantasy, and life long prayer. I have always wanted to write, but not just write, to write good, good enough for someone to want to read, and get something out of it too. And one day if the mighty spirits are willing, to write several books, and to be published one day.

I am Native American Cherokee Indian, and a fourth Irish. I was raised as a Cherokee and raised to abide by the laws of the American white man and speak english too. Very confusing at a young age but natural when I got older. ( I know, makes no sense, lol.) I like oldies music,
southern rock, rock, blues, jazz, and some classical music. I like to watch on television, Law-N-Order, SVU Law -N-Order, Criminal Intent Law-N-Order, The Closer, and so many other things the list is just too long. I'm a big football fan, especially of the college UF I support, Florida U- Fl gators, Yea! Go Gators!!!
I have 3 cats which are my babies now that the kids are gone and have a life of their own.

My brother doesn't talk to me anymore since we laid our mother to rest last summer. I didn't grow up with my two oldest sibilings, and don't really know them. So there you have it. I'm alone, but as happy as I can be, with my furry babies, my writing, and T.V. I'm sure that this story will go on because, I've found my life once again, here, at WDC. Thank you everyone for being so nice to me and making me feel like I belong, and feel like family... you just have no idea how much " I " needed " you "! Bless you " all "! In my cherokee language which I will translate: " Mitakuye oyrsin ", which means, " We are all related ".
I love you all my new family, WDC, and all the groups, and people that became my brother's and sisters.


Love to all

Wado! (thank you),
Cissy
** Image ID #1092660 Unavailable **