"Wild Thing"




1966

Sung by
The Troggs



Song link: http://www.youtube.com/watch?v=4qHX493bB3U


Last Christmas I asked Santa for a wig. Old Santa pulled through for me so on the first day back to school, after the vacation, I wore it proudly. Every strand of hair was perfectly in place as I strode confidently to the bus stop. The only problem was, I primped so long I was almost late; the school bus was pulling out. I had to run to catch it, ducking under the last tree when an errant branch promptly stole the wig right off of my head! I was the laughing stock on the bus full of peers, not to mention the brunt of the day's joke at school. It was just another sign from God I was destined to be a hairdresser to right the wrongs of bad hair.

My mother got very ill in early 1966. She had some rare form of pneumonia and was hospitalized for weeks. It was the first time there was anything seriously wrong with either of my parents. To see my mother laying there with a breathing tube and all sorts of machinery keeping her alive was frightening. It was touch and go for her several times, but each time she would slip further away she would manage to rebound and slowly get stronger.

The day she started getting concerned about how her hair looked I knew for sure she would make it. I bought her a wig so she'd feel like having visitors. I'd also made a bargain with God; if he would just make her better... I promised him there would be no more Judd Cooper nonsense. I felt I should honor that deal and I did. (It probably didn't hurt that he moved away from home either.)

Meanwhile I started working part-time, after school and on Saturdays, at Kailua Bakery. I made the princely sum of $1.05 an hour, plus all you could eat of the bakery goods. The bakery was one of those places where they always hired teenagers. It seemed like every family had someone who had worked there during their school days. It was decades before I could stand the smell of a bakery or eat a donut.

Working was good for me, it helped keep me out of mischief. With Ed gone and Judd conveniently moved away I settled into a routine of work and school. I also got a second job as a telemarketer to sell magazine subscriptions over the telephone. I remember how much embarrassment and pain it would cause me.

My English teacher at school was Mr. Lee. He was Chinese American and young, or he looked youthful, as teachers go. I, being good in all things having to do with English, sat in the front row. He was so flat out sexy to me. "Wild Thing....you make my heart sing....". Somehow I finagled his phone number, called him from my job, and managed to flirt with him on the phone, then in the cafeteria line, and next to him on the bus on the way to a field trip...and what do you know? I sold him a magazine subscription.

One thing led to the next, to my logic anyway, so my best friend Annie and I went the beach one weekend in Waikiki. I had the hair-brained idea to drive to his building, pop up to his apartment, in my bikini, knock on his door and thank him personally for his subscription or some such nonsense. What was unspoken between us became immediately apparent when he answered the door. He stood there, with a shocked look on his face, at his half naked pupil. He was holding his door open just wide enough for me to see over his shoulder catching a glimpse of his wife on all fours, head stuck in their oven, wearing rubber gloves up to her elbows. My smiling "Hi" melted into a stuttering, muttering, "O-h-h-h-h-h-h I think I made a mistake." I ran down the stairs totally embarrassed at my bravado and stupidity. He could lose his job because of me. Needless to say it was very awkward to see him at school after that. It was never mentioned and I was over my schoolgirl crush.

The other job I had for a few weekends was during the State Fair. My magazine job boss, Ron (odd I remember his first name only), was kind of a sleaze. He had the concession for the Handwriting Analysis Booth at the fair. It was a huge fake computer...really just a noisy machine that spit out some pre-written mumbo jumbo. I got hired to be a barker, getting people interested in having their handwriting "analysed". The most memorable part of the job was the headline show, Sonny and Cher, I got to hear them for free.

Ed got back from college in time for my senior prom in June, which really made me happy. I remember he took me to the Hilton Diamond Head...for a "fancy pre-prom" dinner. It was perfect. He is wearing a Maile Lei, the fragrant leaves were often worn by Hawaiian royalty.



I finally graduated from high school on June 6, 1966. I made the white Dotted-Swiss dress that I wore underneath my gown. My parents, brothers and friends gave me fragrant flower leis. My favorite, the Pikake, is a small white flower. My main graduation gift was a Polaroid Camera. Most people got watches, I got a camera, and some smatterings of money in the mail.



I do remember one other gift, from my seventh grade English teacher back in Albuquerque, Mr. Riggs; the one man who told me I was "bea-u-ti-ful". Also the man who said, "You looked good in purple", and noticed I had purple shoes, and gold shoes. He also was the man I had my most humiliating spelling loss in front of during the spelling bee. I admired him so much I made his daughter a pajama cover in my home economic class, sending along with a note saying her dad was a wonderful teacher. His gift to me was two padded hangers for gowns, a very sweet, touching gesture I appreciated.

I started Hollywood Beauty School the very next morning. I'd saved the $500 for my tuition from my jobs, and was committed to 1600 hours and becoming a hairdresser, the one thing I loved doing more than anything else, except writing.

On July 4th Ed and I went to a friend's house for a party. We drank beer, and it was there I saw a porn movie for the first time. I should say I heard it more than saw it, covering my eyes...it was so embarrassing. It also seemed to make us horny, so when we parked that night the windows steamed up and I had my first orgasm.

By August Ed decided to join the Navy, instead of going back to college. We celebrated my 18th and his 19th birthdays, then he went off to boot camp. This is us at the airport farewell.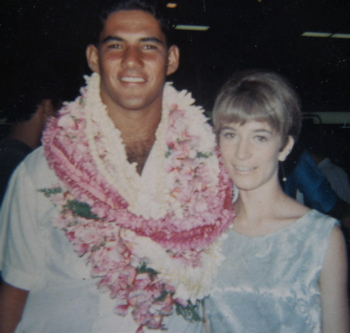 By mid-September I was on my lunch hour at beauty school, sitting in a doctor's office hearing, "Congratulations, you're going to have a baby."

After a few horrible weeks of dealing with both of our parents, discussing our future in quick phone calls we decided to get married. I did not want to get married because I was pregnant, I wanted him to marry me because he loved me. He managed to assure me this was the case.

On my father's birthday, November 9th, Ed and I were married. I was about four months pregnant and only too happy to soon be moving to California to begin our life together. I was a grown married, pregnant woman now. No more "Wild Thing" for me.