"I Second That Emotion"-Part 16







"Stuck in The Middle With You"




1973

Sung by
Stealers Wheel



Link: http://www.youtube.com/watch?v=Gy6cqFIljQo


In January of 1973 you could find me sitting in First Class on an airplane headed for Cordova, Alaska, drinking a glass of champagne with the man who had dared me to go big game hunting with him in Alaska, Sully. I was extremely fortunate to know this man, to be friends with him. He was a man who took risks in life, risks which paid off handsomely in his life. He was 28 years older than I, but I could barely keep up with the man. Yes, I did "bag" a mountain goat, though I never expected I would.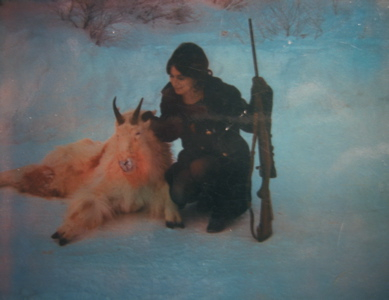 Me with my goat in January 1973, Cordova, Alaska




He would be my most supportive friend/fan for another ten years. (More about him later in the decade.)

I still hung out at the King's X, as the customers also became my friends. Being a so-called sports bar, as well as an outlet for Gin Rummy tournaments and golf tournaments, it was always busy. The other gal who worked with me there, was about 5'9" to my 5'1". Since we were given money to buy our own matching uniforms, we chose what was in fashion, hot pants. Because we chose some with pockets on the back we were quickly dubbed "High pockets" and "Low pockets".

This photo shows me at an awards dinner for a golf tournament with the owner Andy and one of his daughters.



I had my heart broken a couple of times, but nothing ventured, nothing gained. Being a pretty big Oakland Athletics fan, I personally knew Harry Caray (the announcer for the A's for a year), owner Chuck Finley, and players Reggie Jackson, Rollie Fingers, Catfish Hunter, and Rick Monday.

Nobody who living in Oakland during the seventies, could help but be a fan of the Oakland Raiders football team. I was no exception, attending many of their home games and knew many of the players personally. I dated Fred Biletnikoff for several months. Even though The King's X was a so-called "black-balled bar" (because there was sports betting) he did let me take him there late one Sunday night, to prove to the "guys" (customers) I was going out with him. These were little diversions for me though. The man I would fall in love with I had known as a friend for a while.

Bob P. was a customer at the X, in fact I knew both he and his ex-girlfriend. One night I came into the bar and he was sitting alone at the bar. I slid in next to him and we began to talk. Bob is not what you would refer to as a classically handsome man, his nose was a tad too big, he was balding, and though fit, not a bodybuilder either. He was older by about 20 years, had a grown daughter and son by his first marriage. We had similar senses of humor and I always enjoyed his presence.

We spent the whole evening talking, laughing and getting to know each other on a deeper level than we had previously. When the bar closed he invited me to come to his boat down at the marina. We drove down together and we made ourselves comfortable. He told me about the man who had the small boat next to his; he had taken a two-year sabbatical from his job and sailed the world for the two years. The idea of committing to spend two years in close quarters with another person seemed exciting to us.

Perhaps it was one of those moments in time where everything just seems to come together, but by dawn Bob and I had pledged to commit to each other for two years. He moved in with me, and we decided to buy a small car together, a British racing green MGB. We wanted a car nobody else could fit into with us. We would take off on weekends with the top down and drive north, exploring the Russian River area.

Soon after we hooked up he took a job that moved us down to Los Angeles where we rented a studio apartment in Marina Del Rey. During one of our weekend jaunts we bought a puppy, a little gray, miniature poodle. We named her after the town we found her in, Gualala. We called her La-La. She fit into our life, our one room apartment and our car. I got a job in the Marina working as a waitress. Life was going just as we had designed it.

Bob was a restaurant kitchen designer. Quickly he was offered a better opportunity, which would include a transfer to Denver, Colorado. We decided it would be a good move for us. His elderly parents had fallen in love with our puppy, so we decided to leave La-La with them when we moved. We set out for our new life.

We found it cost us less to live in the Denver suburb of Boulder; we could afford a larger apartment in a "luxury" building with an indoor pool. The apartment was wonderful, but in keeping with our stripped down lifestyle, the furniture was a minimal, beanbag chairs, the bedroom mattress on the floor, and a small round, plastic table to eat off of.

I was able to land a job at a new chain hotel that was about to open, the Rodeway Inn. Actually it was more than a job, I was the bar manager. I loved the bar, it was small, only about seven tables and ten barstools. I was in charge of scheduling, hiring, buying, inventory controls, every facet of running it. I am not embarrassed to say I was well liked and did my job perfectly, making money for the hotel. I thrived in the responsibility.

During this time I was able to have Mike come and visit for a few weeks, and was really establishing a relationship with him after a few very difficult, sparse years. Bob got along well with him, and together the three of us would take off for a few day fishing trip in the mountains. The Yampa River was incredible for showing Mike how to fly-fish. It really was quite idyllic.

We did quite a bit of traveling around the state, mostly weekends away, discovering old mining towns and bars with characters we enjoyed talking to.

I was getting tired more easily at work now, and noticing that I had a knot in my abdomen. Finally I made an appointment with the doctor. Much to my surprise I was pregnant! I could hardly wait to get home and tell Bob.

I set about making a special dinner for him that night, and had the table set, his drink made and candles lit everywhere I could place them. I kissed him hello with extra gusto when he came home, and was almost bursting with excitement. He sat down on the floor and I brought him a drink.

"I'm so glad you're home." I was beaming with happiness.

"I'm glad I'm home too. How are you feeling?" He always had a twinkle in his eye. I loved that about him.

'I feel great." I drew in a deep breath, "I'm going to have our baby." There, I had gotten it out.

Nothing. He sat there staring at me, like I was crazy. I was so confused. "Aren't you excited? I said I'm having our baby."

"I don't want a kid." He said, his whole demeanor changed. "Why would you think so? Haven't we designed our whole life to be just the two of us, even down to the car we drive? Shit."

I sank into the beanbag chair until I felt invisible. He left the table. I actually didn't see him leave, I was so shocked. I grabbed my purse and left, drove right over to the bar I managed.

My protégé, Jan was working. There were a couple of long-haired guys in there sitting at the bar talking to her. When she saw me, she headed to the back room, and I joined her there. She was on cloud nine, they were two guys from "The Eagles" band. It would be hard to talk to her, so I just made a Coke and sat alone at a table. I needed to think.

I believed Bob and I loved each other, and thought we probably would marry. The thought of starting a family was not even in my radar, obviously it was not in his. Perhaps he was just in shock and by the time I got home the thought of having a child with me would be something he could welcome. I waved goodbye to Jan and went home.

I was unprepared for what I saw when I entered our apartment; things scattered around the kitchen, a glass broken on the floor, a painting we bought together torn off the wall, and there slumped in the beanbag chair, head in hands sat Bob, crying. I went over to him, sat down and asked, "What are we going to do?"

We spoke of nothing but my pregnancy for three days, with each conversation making it more apparent he wanted nothing to do with starting another family. In my head were always those stinging words of my mother (when she discovered I was pregnant seven years ago): "If abortions were legal, I'd get you one." Now in fact they were legal.

Finally, feeling as though I really had no option, knowing Bob wanted nothing to do with another, second family at his age, I made an appointment with Planned Parenthood.

The morning of the planned procedure Bob came with me, holding my hand in the waiting room. I'd been told what to expect, some cramping, some discomfort. When the nurse came out and called my name Bob looked at my teary, terrified face and said, "If you really want to keep the baby, it is okay with me."

Stunned again, this time by his seeming permission, I let go of his hand and wondered why he would wait until the eleventh hour in the waiting room to say this. At that moment I knew any love I had felt for him was gone. The fact he could put me through this emotionally as well as physically and think, "...okay with me" was going to make a difference now, showed me he was not the man I thought he was. I got up and followed the nurse into the other room.

As soon as I physically recuperated I left Bob. The emotional repercussions of abortion are lifelong and ongoing. Abortion is not just a choice, not by a long shot. I am not perfect, and being swept up by the sentiment of those early years of a woman's choice, I made another questionable choice. I was tired of making bad choices. I think I grew up that year, finally.

I got my own apartment, not far from my job. I bought a red 1964 VW bug, once again I was on my own.

I kept in touch with the producer of my film, Rob, and he told me that the thirty-minute documentary was now going to be expanded to a full, feature length film. The problem was, so many of the women from Mustang had disappeared he was having a hard time figuring out how there could be any continuity. Then he asked me if I would consider going back, this time as an actress.

After much discussion, consideration, and negotiation I agreed to return for two weeks to Reno for additional filming. I would not be turning any tricks. I would be paid and put up in a hotel, leaving the brothel like the rest of the crew when work was finished.

This is a photograph of me taken from the movie, filmed in 1973. (It was released in 1976.)