"I Second That Emotion"-Part 18







"I'm Not in Love"




1975

Sung by
10cc


Link: http://www.youtube.com/watch?v=CIiWBPdhPH8


"I'm not in love, so don't forget it..." The year 1975 was the first time in over a decade I was not catering to the whim of some man in my life. Oh that isn't to say I did not have the opportunity for it, I was too busy living my life to surrender what I wanted, in exchange for hearing yet another man say he loved me.

Bob H. was having trouble with his ex-wife and I did not want to fight her...for his time or affection. As nice as he was to me, it all came to a head one day in mid-January. He came to me in the bar stockroom one morning while I was taking the monthly inventory of my stock.

"Hey babe. Can we talk a minute?"

"Of course." I stopped counting and followed him out to the unopened bar. "Want some coffee?" I poured myself a cup and took a seat at the bar.

"No thanks. Apparently corporate feels they don't want employees to be...dating. I guess one of us is going to have to quit our job."

Instantly I saw where this was going. "Okay, I'll quit." I stood up and headed back to the stockroom.

"Really? You will? Uh-h-h...great. So, you want to move in with me and go look for a new job in Denver?"

"Not really. I think I'm going to move back to California."

"You're kidding. What is there for you?" He asked with more than a touch of sarcasm in his voice.

"I don't know Bob. I feel something is out there, just waiting for me. I feel it in my bones. I can't really explain it, but I know it is time for me to go." I could feel a huge weight lift. I did not know until that exact moment how badly I needed to get out of there, but now that I heard myself say it out loud, I felt so right.

"I thought we had something special building." He was standing there staring, his mouth agape.

"I think I just want to be by myself now. We had a nice time together, but I am not in love with you... I don't want to be. I'm sorry Bob, it isn't working for me."

A month later I packed my VW bug with what I considered necessary; clothes, stereo, a coffeepot, a few photo albums and a few sentimental items. Bob offered to make the drive back to Oakland. I acquiesced mostly because he genuinely seemed concerned with my safety driving halfway across the country alone. Besides, he could relieve me on the driving part.

When I finally dropped him off at the Oakland airport I sighed from the sheer relief of having shed this part of my past. It had been a long, painful road back. I stayed with a friend of mine in Oakland, Louise. She had been a steadfast friend in the past. Louise was a very stable woman, having raised a son alone, bought a house and held the same prestigious job for years. She was a few years older than me, so in some ways I saw her as a mother figure. I know I definitely looked up to her.

My plan was to ultimately move to Los Angeles, where I would write my autobiography. I knew for sure Rob, the producer of the film, would help me out if I did move to LA.. The film would be coming out later this year or next and he wanted for me to do the publicity tour for it. It was exciting to feel I was in demand.

First things first though, I sold my VW to a friend for $600. It had served me well, but I was afraid it was going to need too much care. My old hunting buddy, Sully owned car dealerships and promised to help me get into a better car. A "movie star-to-be" could not be arriving in Los Angeles in a VW bug. I walked the car lot with him. Together we decided on...a Gremlin.

Sully was very supportive, he always had been, but now he was stepping up and showing me how much so.

"Pee-Wee, I know you can write, in fact, I know you can do anything you set your mind to do. How long do you think it will take you to write your book?

"Well, I'm going to plan on six months to a year. It depends on how quickly I can find a job, a place to live..."

He interrupted, "I believe in you, you know that don't you?"

"Of course I do, you always have."

"I'm going to send you enough money to live on each month for a year...enough to pay rent, essential bills and eat. You will also have one of my credit cards to use, in an emergency, and for gasoline. That bill will also come to me. If you are going to be a serious writer, you need to concentrate on that, not having to worry about getting a job or how you will eat."

I am sure my jaw dropped in utter shock. I threw my arms around his neck, "Oh my God, thank you so much. I'll pay you back when I sell my book. And I will sell it."

"I know you will Pee-Wee." He broke into a broad smile.

I never expected anyone to believe in me to the point of backing me financially. Hell, men had not exactly been kind to me up to this point. This was a huge turning point. For once I had respect...not just in words, but he also backed those up with actions. I would never let him down.

I had a few references from the professor in Colorado. He managed to set up a few opportunities for me to lecture in the bay area. One of them was for a group of students at Berkley.

Berkley always fascinated me. I never went to college, but I used to go to the campus on Sundays and soak up the flavor of campus life as best I could. It seemed something was always going on there, small groups of musicians, a protest or another, it seemed so alive to me.

I was feeling more comfortable when I spoke to groups now, and they were so responsive. I was even getting paid small stipends, sometimes just an envelope passed around the room and people would put in a dollar or two.

On another occasion, in San Francisco, I had finished my talk (the last one I'd give before heading down to Los Angeles) and a woman came up to me, "Buffy, I'm Margo St. James and I have an organization named C.O.Y.O.T.E., an acronym for Call Off Your Old Tired Ethics. It's an organization to support prostitutes' rights. I just wanted to tell you how much I enjoyed your speech."

"Oh wow. Thank you. I had no idea there was such an organization."

"I began it in 1973, so it is fairly new." I looked a little more closely at her. She was a brunette, somewhat attractive, but also a touch hard looking. "I was wondering if we could meet and talk?"

"I'd love to, but I'm moving this week to Los Angeles. I'm going to write a book about my experiences."

"Ahhh, excellent. I understood from your talk there is a film, a documentary, made at Mustang coming out soon?"

"Yes, in fact that's one reason I need to get to L.A., I have some early press for it to do. It's all quite exciting for me."

"I know a woman in LA, maybe you would want to give her a call? She's also writing a book, for her doctorate in Sociology. I'm sure she would want to talk to you." She scribbled some information down and handed it to me.

"Thank you so much. Listen, if you have some time would you like to grab a bite to eat?"
"I'd love to."

"I'm about finished here." I turned back to the interviewer and apologized for the interruption.

This is the photo taken of me that afternoon. It appeared in the newspaper along with an article about me.



This was my first contact with Margo St. James, but it would not be the last.

By September I was all packed into the avocado green Gremlin and driving to Los Angeles to begin a new life. I was so excited to be starting over, with a purpose to my life.

I found a wonderful, furnished bachelor apartment to rent. It was a large complex, but it meandered over acres of lushly landscaped land, and beneath my window was a gurgling stream. I adored it instantly. The kitchen was adequate for cooking a small meal, with two burners, a mini-fridge and a sink. It was just perfect for me. I had a covered parking place, and my neighbor turned out to be a gynecologist who was in the midst of a divorce. Dr. Bruce was a good friend during this time and for many years after.

I called Rob as soon as my phone was installed; he had already set up a screening of the film for the Hollywood Foreign Press Association. I was impressed. Of course he wanted me there to answer questions afterwards, and I was very eager to comply. Hollywood! Who could have imagined it, certainly not me.

The screening went fabulously well, some of the other women in the film showed up late, with Joe Conforte. That was fortuitous, as the press besieged me, being well spoken and more quotable than them. Rob was delighted with my self assurance and assured me there would be many more opportunities. (Here I am being interviewed.)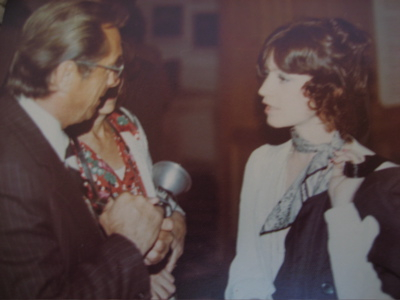 The attention from the press did not stop there, in fact it would be the beginning of a number of years of it due to several factors; first being one of the members of the Hollywood Foreign Press took a liking to me...smitten may be a better word. I would accompany him to many of the press parties for various films the studios were promoting. Berteil Unger wrote the Hollywood column for a Swedish newspaper, his twin brother, Gustuv was a film producer. Together they were quite sensational, as both of them wore monocles. He was my first real friend in the Hollywood scene. Here I am with Berteil at one of the parties, obviously checking out some celebrity while Berteil checked me out.



In spite of all the glam, I still had work to do and calling Lois Lee, Margo St. James' contact, still needed to be done, so I picked up the phone and dialed her number.

"Hi, is this Lois Lee?"

"Yes..."

"My name is Buffy Wilson, I was given your number by Margo St. James...she thought we should get together." I went on to tell her how we met in San Francisco, and why. It was agreed we would meet at the Jolly Roger Coffee Shop in Hollywood on the following day.

On the day I met the young, blonde go-getter who would soon become one of my closest friends, I could never have dreamed up what would be set in motion due to that fateful meeting in Hollywood that afternoon.