"I Want You To Want Me"

Sung by
Cheap Trick-1979



Link: http://www.youtube.com/watch?v=iyzvU6OGr_U&feature=related


Though still busy lecturing and working with C.A.T., I still believed I needed a job with a salary. The perfect job would give me some flexibility, as well as an opportunity to use my "sales skills". I thought the perfect job was with an innovative furniture company about a forty-five minute drive, from my house. It paid a small hourly wage with the additional potential of a commission on each sale.

As it turned out I was not a very good saleswoman for custom, upholstered furniture. There was a rotating sales crew, one or two of us working the floor, taking turns grabbing a customer when they came through the door. It felt like we were pouncing on them, and indeed we were. I quit the job when it became apparent I was not exactly proficient at the "in your face selling techniques" to sell couches to couples. I lasted a whole six weeks. It's one thing to sell yourself with a wink or smile and a whole other thing to have to convince them they needed a new set of furniture.

I dated on occasion, but having had several failed relationships, I was approaching the male species with a great deal of apprehension these days. In general, I was comfortable with myself; happy to be living alone and doing the things straight/normal people did. Life had calmed down to a happy place for me.

Isn't this always when the good things seem to fall into your lap? There I was, wondering what I would do for additional income, when I answered the phone and it was my dear friend Sully.
""Hey Pee-wee, you know I have that Safari camp in outback Australia called Nimrod Safaris?"

"Sure, why?"

"I know you're a writer and I'd love to hire you write some brochures for it. Are you up for a trip to Australia? Might even hunt some Water Buffalo while we're there. After, we can swing by Papua, New Guinea, then maybe over to Singapore. Probably all told, we'd be gone a few weeks. It would be pretty good pay for you."

"How did you know I was looking for work? You amaze me again. I'd be thrilled to do this for you."

Little did I know what an adventure it would be, although I should have figured on it, because I'd been hunting with him before, in Alaska, and fishing in his fishing camp in Costa Rica. Going anywhere with Sully was a HUGE adventure.

The end result of the trip was I had not only gathered enough information to create a great brochure, but I also bagged a water buffalo. My finances were going to be just fine. From then on I would take jobs, with advertising agencies, as a copywriter.

During this same timeframe, Los Angeles women were gripped with a fear for The Hillside Strangler. Young women, mostly from the streets, were being found near freeways strangled and nude. C.A.T. was working with the police to try and figure out who was killing these women, some of whom were known to us from our experiences on the streets. This struck particularly close to our hearts.

On July 7, 1979 Lois and I had a meeting with the Police Chief of the San Fernando Valley, where we shared what we were hearing from the women on the streets. We were pleased to do anything resulting in help to end the senseless killings.

After the meeting I was driving on Sunset Blvd. when I pulled up to the stoplight in front of the Beverly Hills Hotel. On the way over to Lois' apartment, it was late, but my mind was occupied with how a killer would gain the trust of so many street-smart women.

I felt someone staring at me and glanced over to the left of me. This was the first time I saw Lance; sitting in a Rolls Royce, the streetlights were brightly illuminating his wide grin. He was flirting.

An uneasy feeling swept over me even though the radiant smile could have melt any woman's heart. He began to gesture me to follow him. Well, this was a first, so I was torn. He might well be the strangler. I decided to pull over, obeying my gut instincts, but to not be stupid about it. I pulled up behind him, stayed inside of my car; lights on, doors locked, window rolled down about two inches. I studied him as he got out of the Rolls Royce. He had a sweater casually knotted over his shoulders; his slight frame was silhouetted in the headlights. He certainly did not look menacing.

After charmingly trying to convince me to come to his home, "Just to talk, I promise..." we exchanged business cards and I drove off, leaving him standing there. I supposed he would never call, so I pretty much forgot about it, especially since his card said he was an attorney.

Two weeks later he called. "Want to come over for a swim at my house?"
I agreed to, and he told me to walk around the side gate, he would be by the pool. This is exactly how I found him.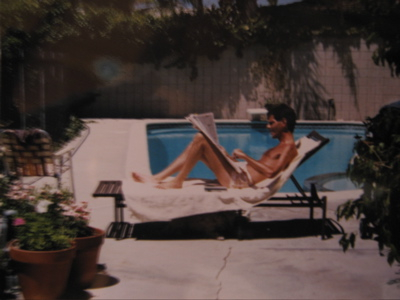 Apparently he thought I was pretty hot, as I noticed all afternoon a parade of good looking, male, single "friends" just happened to stop by to checked me out. I thought it was kind of cute, he seemed to be getting his friends' approval.

Later that afternoon I went home, changed and he came to pick me up for our official "first date." He took me out to Mr. Chow's Restaurant, in Beverly Hills. (It is still a hot spot for celebrities today.)

One week later was his 28th birthday. I celebrated with him, and his closest dozen friends, at The Palm restaurant.

Three weeks later (to the day) I turned 31. He invited me to go out and have my birthday dinner at the Palm to celebrate. I accepted, going to his house first. We never left his house that night. We were quite smitten with each other. I am sure we just feasted on each other.

By now, we were seeing each other nearly every night, including weekends, sometimes hanging around his friend's condo pool.



Spending time with him was wonderful. He was funny, smart and treated me like something precious. He told me he preferred to call me Sheila, something nobody had cared about before. What a rarity in life. I was not used to being wined and dined so much, so I did what I thought was what all women did; I invited him over for dinner. A dinner I would cook.

I clearly remember cleaning my little house, reading one of the cookbooks I had, flipping through the cheap paper pages until I saw a recipe for pork tenderloin stuffed with cranberries, topped with a rosemary cream sauce. How perfect.

I went to the small market and told the butcher what I needed and shopped for the rest of the ingredients and hurried home to assemble the dish. Of course I had a vegetable garden...but I would wait until the last moment to pick some.

When Lance arrived (after climbing the 17 stairs to my front door) I greeted him with excitement and anticipation. The smell of a delicious (if untried) dinner filled the house, and the flowers he brought were perfect. I placed them into a vase, in the center of the mantle over my fireplace.

Being a studio style house, the kitchen was open to the living/bedroom area. I had a lovely fireplace and a big bay window showing off the green hillside. The only separate room was the bathroom, a roomy well- appointed bungalow style. I had a U-shaped overstuffed crème and brown couch, a terrarium bottomed glass coffee table I lovingly made. The bed was set into the bay window, covered to blend in, not be a focal point.

Behind the couch was a large picture window framing the Hollywood sign, and beneath it an antique dressing table-turned-desk. In the center of it sat my manual typewriter. I had used a Ficus Tree along with other plants to soften any corners. It looked like a tasteful, feminine, happy writer's house, and it was.

From the kitchen's sliding door, you could see out to a small patio and a grassy area and garden. I had a chaise lounge on the grass, and small table with two lawn chairs on the patio. It was lovely enough to eat outside, instead of the breakfast bar that defined the kitchen area.

Lance never really was a drinker, by then I wasn't either, but this night we did share a bottle of wine. As I finished preparing our meal I knew he was watching me, but since I had cooked pretty much my whole life, it came easily and naturally. I was very comfortable around him, so much so I popped outside and picked our dinner vegetables, asking him ro help me wash them off. He wasn't very experienced at it, but it gave us some laughs.

The dinner turned out to be quite good, and he praised my ability, even as we laughed that I had been the first, to serve him, a Jewish boy, pork. What did I know of such things?

Shortly after September 5th I got a big surprise in my mailbox, a subpoena commanding me to appear before the United States Tax Court, at the Federal Bldg. in Reno, Nevada. I was to testify on behalf of the Commissioner Of Internal Revenue in the case of Joe and Sally Conforte vs The Internal Revenue Service.

I was told to report and to "bring all records, of whatever nature, including, but not limited to; forms W-2, pay-slips, timecards, work schedules, calendars, diaries, income tax returns, cancelled checks, bank statements, savings books, correspondence, workman's compensation claims, or the like, relating to the income you earned while at the Mustang Bridge Ranch Brothel and/or from Joseph or Sally Conforte during the years 1971 through July 31, 1979, inclusive."

As you can imagine I was shocked. Lance did a great deal of comforting me about this, assuaging my fears by saying; "They want them, not you." Arrangements to fly there, stay at a hotel and receive a per diem were made, and on Sept. 23 I flew to Reno, alone. The IRS attorney picked me up at the airport and took me to the hotel, for a briefing.

I was told what to expect, and the kinds of questions I would be asked. He said what documentation I had was fine, and they would ask me about them. Actually, it was all pretty straightforward. I had come prepared with the few things I had to support my income, for the total eight months I worked there. A time/pay card, my tax returns, some letters from the customers and a few other things proving my time there.

The next morning I was taken to the courthouse. Oddly enough though somewhat nervous, I was not afraid to face Joe and Sally. I knew all I had to do was be truthful. Besides it had been seven years since I worked for them.

Sitting on the witness stand for hours, answering questions with Joe and Sally staring me down, managed to give me a final bit of closure to a period of my life I would now be able to take even more strength from.

At the end of the trial, long after I returned home, Joe and Sally were convicted of income tax evasion. Joe Conforte fled to Brazil to avoid going to prison. (Where he is still is living in comfort today.)

I resumed dating the man I was falling head over heels in love with, Lance. Life just kept getting better.



Footnotes
The whole story is spread over a two-blog entry and in a linked photo album beginning with: "Nada in 1979"

The complete story of our meeting can be found as: "Sunset Boulevard"