"I Second That Emotion" Part~26

Every Breath You Take, Police-1983

Link: http://www.youtube.com/watch?v=8Rygpvh5bV4


In mid January Lance and I spent a weekend at the beach house, and it was when I called Willhemina, the caterer I'd used for our Christmas party last year. I wanted to lock her up for our wedding.

Knowing this was not my first marriage, even though it was Lance's, we preferred to have a small, intimate wedding. It would be at the beach house, with only forty family and friends invited. This would be in stark contrast to the flamboyant and very expensive weddings of some of his friends. We preferred to keep it small and plan a honeymoon in Europe. Besides, I felt my parents had paid for one wedding, so I would be paying for as much of the wedding as I could. That meant a very small budget. I was determined not to borrow any from my parents.

The date we had chose was June 19, a Sunday, coincidently also Father's Day this year. We would have the ceremony at noon on the small paddle court in the front, followed by an outdoor lunch on the beach side of the house. I would have only a matron-of-honor, Lance would have a best man. No flower girl, but the ring bearer would be my son. My parents and Mike would fly in a few days beforehand, and all out of town guests would stay in the family motel.

Because my parents lived out of town, and because Lance's mother did not have a daughter I wanted to bring her with me to shop for a wedding dress. Of course I had looked through all of the bridal magazines, and I wanted something not white, but also something that would be appropriate for a garden style wedding. We met in February at the bridal salon I had driven by on so many occasions.

I had seen a gown in the magazines, one expressing what I hoped to achieve with my gown; an antiques white, drop-waist, off-the-shoulder gown. It had silk flowers in pink and white, seed pearls and a soft pink ribbon accenting the low waist.

Sue took a seat as I began going through the sale rack of gowns, as my dress budget was $300. More than I ever spent on a dress, but so much less money than the gowns I was seeing. The saleswoman asked what kind of wedding, and a few other questions, then set out to find something in my budget.

Finally she had a few thrown over her arm and showed me to the fitting room. As she hung them up my heart sank, nothing was looking like what I wanted. Undaunted she told me to try them on. To me, they were too much for an outdoor, garden wedding. Also, they were just too white. Then she burst into the room holding a sample dress, not just any sample dress, but the exact one I had seen in the magazine!

I slipped it on, she fitted it to me by artfully pinning it and I stepped out so Lance's mother could see it. Her wide smile and nod of approval just reinforced the resolve. "I'll take this one." We soon found the right headpiece, a wreath of pink flowers and ribbons with just a long netting. I did not want a traditional veil, so this was perfection. I did go over budget either.

Things were falling into place perfectly, except in March I broke my right foot. To clarify, it was a bone in the ball of my foot. I was going to have to wear a flat platform shoe for six weeks.

By May the foot had healed and we had gotten most of the details nailed down. My son would fly in a few days prior, my parents would also come in then. We'd all go up to the beach house for a rehearsal dinner on Friday night, have dinner out with my matron of honor and her husband on Saturday, and get married at noon on Sunday.

Everything fell into place, and Saturday morning Mike, my parents, me, and my hairdresser were all in the motel, in various states of readiness. I let my hairdresser do my mother's hair first, then mine. While mine was being done, the three of them went on to the beach house while I quietly went about getting ready for this day I had been hoping would arrive.

The family sent over Scott in a Rolls Royce to pick me up and bring me to the house. I was excited and nervous, but eager to begin.

I was ushered into one of the guest rooms, and the photographer began shooting the formal pre-wedding pictures. Here is the one he took of Lance:



Here is mine: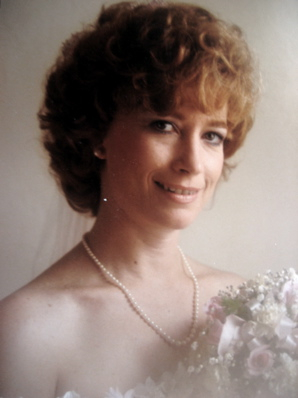 We had a harpist to play the music, and soon I heard the soft, lilting strings of the Wedding March. It was time. My father escorted me down the center isle, twenty family and friends on either side. My nerves were oddly calm, maybe it was because I knew this was right.

As we stood under the flower entwined Chuppah with Scott, my son, and Judy as witnesses, the Rabbi began. As if on que, a helicopter flew overhead. As luck would have it, I was taping the ceremony (not videotaping, but on cassette). Nobody could hear anything so we stopped the ceremony until it passed. This must have thrown off the Rabbi, as when we began again and it came to the part of; "Will you Sheila take this man, Scott to be your lawful...." and we all busted up laughing!

I spoke up, "It's Lance I'm marrying Rabbi."

"Oh yes, please forgive me." Then he went on, once the laughter died down.

"I now pronounce you man and wife. You may kiss the bride."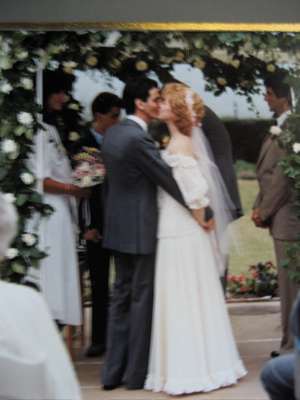 We then stomped on the glass to a chorus of "Mazaltov", and the celebration began! Of course there were more photos and a toast to us as the harpist plucked out, "Every Breath You Take":



Lance and I with Mike;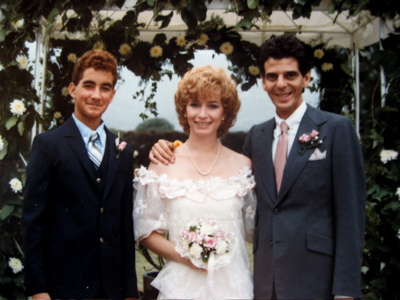 Then it was off to the back side of the house where our luncheon was to begin.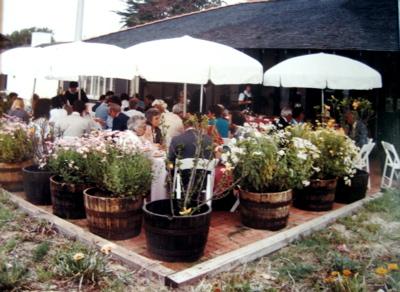 Everything was perfect, and by five that evening Lance and I were back in our home, just savoring the day. Our flight to Switzerland was departing first thing in the morning, so we wanted to get our last minute packing completed, so the honeymoon could begin!

We went to Zurich, stayed a few days, rented a car and drove to Interlaken, Switzerland for three nights, then through the Alps to Florence Italy for a couple of nights, then San Remo, Italy for a night on our way to Nice', Cannes and Monte Carlo, and finally ending up in Paris, before coming home on July 11th. It was an amazing trip.

The wedding reception for about 100 of our friends and family was at a Mexican restaurant we took over for that Sunday afternoon. By this time we had been married nearly a month, and were quite relaxed. It was a wonderful day.

Here I am between the two brothers that day:



And here is a photograph of my "Hollywood table"...I think you will recognize them from previous blogs; Left to Right...the twins, producer Gustav and his twin (my Oscar date) Berteil, Lou Moorheim (one of my writing mentors) and his wife Marilyn, and of course, Lance and I.



Again, this entry is so long, so I'll just end this week's entry by saying..."and they lived happily ever after."