Printed from https://www.Writing.Com/view/2203640
by

Beholden

A consideration of Vermeer's talent.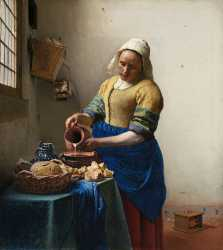 Homage à Vermeer 2

"Camera obscura,"
they say with a sneer,
dull mathematical eyes
aware only of precision,
unwilling to bow before
talent so evident,
blind to the beauty
that dazzles my sight,
not captivated
by bare arm extended,
unmoved by the tilt
of rapt face absorbéd
in so humble a task,
numb to the contrast
of surface and texture,
thick, rich, blue apron
and brown stoneware jug,
the weave of basket
with brass pot
and pottery pitcher,
all alive with the light
glowing from the window.

Even if it were true
that the master had help
from the vague and dim image
of a primitive device
(and the x-ray evidence
disproves by poses overpainted),
it's not the means that matters;
it's the overwhelming result,
the everyday elevated
to radiance ineffable.

Line Count: 32

© Copyright 2019 Beholden (beholden at Writing.Com). All rights reserved.
Writing.Com, its affiliates and syndicates have been granted non-exclusive rights to display this work.
Log in to Leave Feedback
Printed from https://www.Writing.Com/view/2203640