Noticing Newbies: December 17, 2014 Issue [#6715]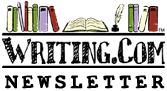 Noticing Newbies





This week: Child Like Wonder

Edited by: ember_rain
More Newsletters By This Editor



1. About this Newsletter
2. A Word from our Sponsor
3. Letter from the Editor
4. Editor's Picks
5. A Word from Writing.Com
6. Ask & Answer
7. Removal instructions





As a Newbie, I struggled to find my place here. It took a couple of tries. Then I found a group and a friend that put a smile on my face and made me want to be here. I want to be that friend for all of you. So grab a cup of tea and have a nice read as I help you find your ways through the ins and outs of Writing.com.

The best thing about this place... Even Dyslexics like me, that like to tilt at windmills, have a chance for greatness. If you find a grammar or spelling mistake accept my apology now. Spell and Grammar check just doesn't get them all. I will, on occasion, use this space to explain things I have learned to both help solidify them in my mind and to help others that might struggle with it as well. Homeschooling my kids taught me that I learn best when teaching.



| | |
| --- | --- |
| ASIN: B07P4NVL51 | Toy |



WDC is confusing. It is a mass maze of stuff--from peoples personal thoughts, to huge novels they need help editing, in hopes of publishing. There are the things you can see and things you can't. So how do you manage your way around this amazing mess? You do it with child like wonder.

WDC requires of us all, even those of us who have been wandering through this maze and have a general idea of where a twist or turn will take us, to approach it the way we would a series of Juniper trees growing close together as children. We would get down low and crawl in under the poky needles in order to discover what is there, as well as what the outside world looks like from our new hiding place. We follow the ants or rollie pollie's in deeper until we find ourselves so lost under those low level branches we aren't sure we can find our way back. But we have complete faith that we will hear mom when she calls us in for supper, so we just keep going, safe in the knowledge that her voice will lead us home.

This is how you have to approach WDC. As adults we lack the ability to completely suspend our disbelief anymore. We are no longer the explorers of the rabbit hole. We no longer can see a tree and think of it as a castle... Or can we?

As writers we ask our readers to suspend their disbelief and travel with us, every day. We show them the path and send them scurrying down it not knowing what the outcome could be. Here on WDC your job is to explore and suspend that disbelief. You can't break WDC, though you might want to learn to be protective of your fellow writer's fragile egos while reviewing. Those you can break, if your not careful. Like balancing a teeter-totter, you learn that if you stand firmly in the middle pointing out flaws and good parts you can create the perfect review that helps and encourages at the same time.

Your job as a new person to WDC is to explore the side bars. Click on every link to see what it opens up. Explore its recesses. Learn what you can from it, then continue forward to the next and the next until your child like wonder becomes more like a teenagers love for exploration; that turns into an adults experience, that can help a new member explore with child like wonder.

This is the cycle of life and the cycle of WDC. In this time of child like wonder for all, lets not forget to return to that view be we new members or old for it is through child like wonder we learn and grow.

There is a lot of child like wonder going on right now. WDC is a world of wonder, fundraising, and trying to improve the day of our fellow writers. How can you join in if you don't have the gps to participate in all the goings on? Write a Review. Let someone know you appreciate them as a person and a writer. It's also the best way to build gps that can be used to participate in WDC. Her Santa is alive and kicking not just for the children around the world. Embrace the Joy and dive in. Its the only way to really find your way through the maze.





Here are some items to help with your child like wonder and exploration of the Maze that is WDC, a clue if you will.
How To... (E)
A series of articles to help with creating different types of items and navigating WDC.
#

1756201

by ~A.J. Lyle~
Nick's Newbie Guide (E)
How I got started on Writing.Com. I followed these steps and found it very successful.
#

1169342

by Nicholas Holder
Helping Links (ASR)
'Help Links' for Newbies and all other members who are still learning
#

1304021

by Maryann
Writing.Com Helpful Hints (E)
Here are articles about things on Writing.Com to help it's members, new or otherwise!
#

1444906

by 🦄🏳️‍🌈Sapph
WDC Welcome Center (E)
Help for New Members
#

1768104

by Pat ~ Rejoice always!
Newbies - Pick then Click (E)
Pointers on how to receive more exposure for your story
#

1275086

by Lornda
How to Post in A Forum (E)
How to post in contest or forum step by step with bitem
#

1750370

by eyestar~hiatus offline
Writing Tips And Corner Advice (E)
My little corner on writing helps
#

956011

by Sunnie
How to Make WDC Item Links (E)
Learn some different formats of showing item links here
#

1785838

by Maryann



Have an opinion on what you've read here today? Then send the Editor feedback! Find an item that you think would be perfect for showcasing here? Submit it for consideration in the newsletter!
https://Writing.Com/main/newsletters/action/nli_form



Don't forget to support our sponsor!




| | |
| --- | --- |
| ASIN: B07NPKP5BF | Toy |



Do you believe in Santa Clause, or strive to look at the world with child like wonder?

Definition:

Clue: A ball of twine or string that allows one to find your way back to a previous point when lost in a maze. My first clue for you: The left sidebar.

Commits on my last newsletter:

Steve adding writing to ntbk.
: Not doing Nano. But I did see a group that focuses on poetry month in April and I asked for the link to their group. The bank was featured in this part of the newsletter.
I often use the newsletters to garner reviewing material and those I review, i let them know they are featured.
Thank you for your care and concern for the Newbie.
I love reviewing them as well and encouraging them to strive to make the WdC their syber home away from home.


My Comment: Thanks Steve adding writing to ntbk.
Its people like you that help our newbies find their Child Like Wonder. Please note that Camp Nano happens in April as well as poetry month. You can set your own word count goal for that and many people use it to write poems for Poetry Month.
Eliza Rose
:Yep, this is the first year I'm doing Nano and it's driving me insane. I procrastinate all the time, (writing this, reading this article: procrastination. Great article though:D) so I don't actually end up meeting my daily word count until late. Then, I have to wake up early for school. Not to mention I missed three days because of school work and now I'm behind. My stories just dragging on and I've just reached the rising action so hopefully, I'll get my inspiration soon. For now, I'll just bang my head against the keyboard and hope that it'll turn into something of value.


My Comment: Eliza Rose
That is the nature of Nano and trying to write long pieces on a schedule at all. Life gets in the way. It's going to, which is why they picked November to host this, in my opinion. How better way to learn to manage your writing time when you know you are either going to be spending hours in a car, airport, or train station to get to where your going or hours at home cooking if everyone is coming to you. Stories don't flow like we want them to all the time. When they do time stands still. When it doesn't, it can drag on forever. We all go through this. It's the beauty of Nano. We get to go through it together.

| | |
| --- | --- |
| ASIN: B01DSJSURY | |



To stop receiving this newsletter, click here for your newsletter subscription list. Simply uncheck the box next to any newsletter(s) you wish to cancel and then click to "Submit Changes". You can edit your subscriptions at any time.



This printed copy is for your personal use only. Reproduction of this work in any other form is not allowed and does violate its copyright.