(163)

by

Dave

A log of the magnificent journey across the vast sea of my imagination.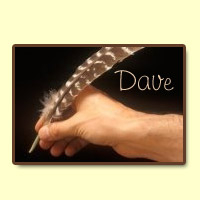 A log of our magnificent journey.
October 4, 2021 at 5:36pm
Welcome to my writing nook
beside the babbling brook!

I pause to gather my thoughts here,
where life goes by in lower gear,
communicating with the birds,
translating their songs into words.

Deer and squirrels come around
where peace and quiet abound.
© Copyright 2021 Dave (UN: drschneider at Writing.Com). All rights reserved.
Dave has granted Writing.Com, its affiliates and its syndicates non-exclusive rights to display this work.
Printed from https://www.writing.com/main/profile/blog/drschneider/day/10-4-2021