(4)

Wanna know what a frog has to blog about? Read on!
I have decided to give this blogging thing one more shot. I had one but it was filled with random stuff, not focused and I'd go days and weeks without making updates. Well, I joined a blogging group called Take Up Your Cross and they supply daily prompts, which I've noticed has helped tremendously. Thus far, I've only made two late entries!

Now, I've decided to up the anty, and I want to try the 30-day blog challenge. I've decided to create THIS blog specifically for that purpose! I think, getting daily prompts helps. It serves as a reminder to make a post and it also helps to focus my thoughts onto to something specific and not random things.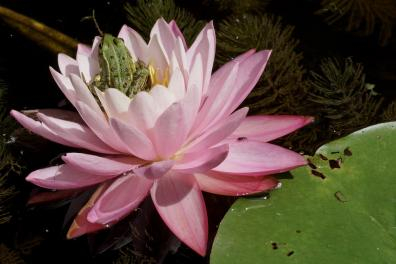 I am a F.R.O.G. this did not happen overnight but was a gradual morphosis that happened over the last 45 years of my life. No, I didn't turn into a brightly colored reptile that hangs out on a lilypad. A F.R.O.G is someone who Fully Relies On God.
It is my hope that my entries in this daily blog will reflect my F.R.O.G personality and lifestyle and maybe, just maybe some of you will decide to become F.R.O.Gs as well!

December 23, 2021 at 1:38pm
Finally HOME again! Whew!! Three weeks in the hospital was just way, way too much. I finally had the biopsy done on my kidneys and the results won't come back til after the holidays. Until then, the plan is for me to go to outpatient dialysis three days a week for the next six months. The hope is, that by taking the strain off them as much as possible, it will give them time to heal and bounce back and I won't have to continue with the dialysis. However, if the biopsy shows the inflammation they see is actually scar tissue from prior kidney injuries then we may have to look at a longer course of outpatient therapy. I do have stage 4 kidney disease but they said that is NOT what's causing this current problem, it's just an underlying problem.

They may not know what the problem is, but my God does and HE is my great physician. So, I'll just put my trust in him. I have to educate myself about a renal diet and learn what is good and bad for kidneys. I am well versed and used to following (loosely) the diabetic diet, but I know nothing about renal diets and I need to do everything in MY power to be kind and gentle to my kidneys so they can have the time they need to heal. Advice is most welcome.

The good and exciting news is I'M HOME!! I finally got to come home last evening. It feels weird being back at home but also so nice! I actually got to sleep ALL night without anyone waking me up to take vitals and no one came to jab me for my blood at 4AM this morning. My husband was so sweet. He figured I could use the sleep and didn't wake me up. I slept til ten...and then we got busy!

I made out a grocery list for what we wanted for Christmas Eve and Christmas Day. I completely changed everything I had previously planned because several times are now on my NO NO List. Fred was sweet and was very enthusiastic and excited when I asked if he would mind if we went meatless Mexican for Christmas Dinner. I plan to make cheese-stuffed enchiladas with green chili sauce (Tomatoes are now a NO NO), cilantro rice, Frito salad (I'll leave the Fritos out of mine) and tortilla chips are Ok in moderation, they gave them to me in the hospital...so I'll make tomato-free guacamole and serve with tortilla chips. The enchiladas are stuffed with a combination of cream cheese, Velveeta cheese, black beans and bell peppers, onions, and garlic...and topped with the chili sauce. I'll go easy on the Velveeta cos of the salt...salt and sodium must be kept to a minimum. I can have some, but not a lot.

I have so much to learn. Again, I'd like to THANK everyone for your well wishes, prayers, comments, and support. It meant so much to me. I know it was your prayers and love that got me through all this. I promise I'll start going through all my emails and get them sorted and responded to in the next few days. I've really missed each and every one of you and I'm so glad I can now be back. Maybe not quite as much as I was before, but defiantly more than I was the past few weeks. Lots of love and Merry Christmas to everyone.
December 17, 2021 at 6:05pm
Again, I want to start out thanking everyone. I know I'm way, way behind on emails. I'm reading them but it might be awhile yet before I get to respond to them. Yesterday .marked the two week point I've been stuck here in this hospital.

This past Monday they implemented a dialysis port and I started dialysis four hours per day. To be honest, it has not gone well. Which is why I've barely been online. I lurk. I read the news feed and read emails. I've been exhausted.

This coming .Monday I'm scheduled for a biopsy. They will put me to sleep for this procedure. They want to determine if the information around my kidneys is scar tissue from previous injuries or something else. So. Looks like my stay here is going to be a little longer.

I'm in good hands and my faith is unshakable. Gods got this! When I'm a little stronger, I have lots of stories to tell you about some of the people Ive met. And i cant wzit to tell yall about unicorn fart lady!
Everyone of you are always in my thoughts and prayers.
December 9, 2021 at 3:44pm
Warning:
This is probably going to get long-winded.
Warning:
If medical stuff triggers you, you may not want to read this.
Warning:
I am writing under the influence of morphine...so I do not promise everything will be clear, concise, or understandable.
Whew! This has been some kind of week. I barely know where or how to start. Thursday evening I started having a really hard time breathing and by the time EMS got me my oxygen level had dropped to 49. I do not remember the ambulance ride and only remember waking in the ER where I swear I woke in a whole different world. I do not know what these people gave me but it must have been some mighty powerful stuff.

Was in ER for 14 hours, then transferred to ICU where I was for two days, then finally got moved to a regular room. I have a severe UTI which they have been treating and an "acute kidney injury" and your guess is as good as mine what that really means. But, what they explained is my kidneys are not voiding out the toxins in my body and they have been building up to a lethal level. The scans and xrays show lots of inflammation but they can NOT find a source for the problem. On Tuesday I had a blood transfusion...cos my blood was low...but no one knows WHERE my blood actually went. NO internal or external bleeding...and the next day, after the transfusion...guess what? My blood was again so low I needed a second transfusion. NO ONE knows where the blood is going! lol

Today, the whole kidney team came in and I was told tomorrow they want to start me on dialysis...they think a few rounds might snap my kidneys back into action. Maybe. They couldn't tell me if this was to be just a temp thing or what...so that is still pending and unfortunately I was told not to even think of going home until Monday at the earliest...They said I'm right on the borderline of having chronic kidney failure so they want to keep a very close monitor on things. Everything else seems to be leveling off and getting back to how it should be. My breathing is fine and the UTI is under control. Now, just waiting for these stubborn kidneys to get with the program.

I have to say, despite all the drama and sickness, this has been a very interesting stay. I am at the LBJ Hospital in Houston and let me say, they have quite a cast of characters that work here! I've had the pleasure of meeting several traveling nurses. One of my night nurses is Shany and she is from India. She is tall and willowy, and very beautiful...she talks so soft and gentle...but does not take NO for an answer....she always comes in with a big smile and she is so gracious and she has told me a little about where she is from and she's not a fan of the Texas weather.

There is a vampire on staff...a little man from the Philippines who comes to do the blood draws for lab...and let me say, he cracks me up every morning...I've blown three IV's and have had two pick lines put in but they stopped giving blood...so they have to call him...he's one of the best I guess...I've nicknamed him the Vein Whisperer...cos he hits my vein the first time, every time and I swear its like magic cos I never even feel the needle stick!

One thing about this hospital is, it makes you feel like you are at a grandparent's house or something. I get called "Mama" all the time or "Mommy" by most of the staff...and its a term of respect...kinda like when someone calls you Madam or Lady. They forget and talk to me in Spanish..then suddenly stop when they realize and switch to English lol I try to let them know its OK, I can pick up the gist of most of what they are saying to me. They are so kind and compassionate.

The meds they are giving me keep making me sleep a lot..and I feel them wanting to drag me back under so I better close this now. I will add more as I can...I still have SO much I want to share with everyone. I do want to let everyone know that I won't be around as much probably for the next week still...I've asked if anyone wants to lead the Monkeys for a while..I think everything else will be OK left as is for now. I'll check in every chance I get but probably won't participate much or have any contests for a while.
© Copyright 2021 Tina-making changes! (UN: wordgeek at Writing.Com). All rights reserved.
Tina-making changes! has granted Writing.Com, its affiliates and its syndicates non-exclusive rights to display this work.
Printed from https://www.writing.com/main/profile/blog/wordgeek/month/12-1-2021