Printed from https://www.writing.com/main/profile/blog/wordgeek/month/3-1-2023
(5)

Wanna know what a frog has to blog about? Read on!
I have decided to give this blogging thing one more shot. I had one but it was filled with random stuff, not focused and I'd go days and weeks without making updates. Well, I joined a blogging group called Take Up Your Cross and they supply daily prompts, which I've noticed has helped tremendously. Thus far, I've only made two late entries!

Now, I've decided to up the anty, and I want to try the 30-day blog challenge. I've decided to create THIS blog specifically for that purpose! I think, getting daily prompts helps. It serves as a reminder to make a post and it also helps to focus my thoughts onto to something specific and not random things.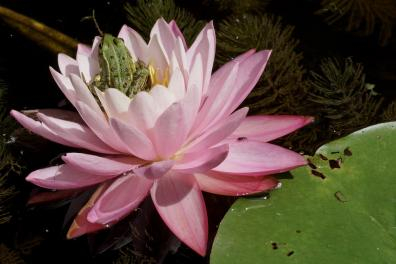 I am a F.R.O.G. this did not happen overnight but was a gradual morphosis that happened over the last 45 years of my life. No, I didn't turn into a brightly colored reptile that hangs out on a lilypad. A F.R.O.G is someone who Fully Relies On God.
It is my hope that my entries in this daily blog will reflect my F.R.O.G personality and lifestyle and maybe, just maybe some of you will decide to become F.R.O.Gs as well!

This book is currently empty.
Printed from https://www.writing.com/main/profile/blog/wordgeek/month/3-1-2023