Printed from https://www.writing.com/main/images/item_id/1919021-Jeannies-Life-is-Short-sig
(2)

by

Jeannie🦋

I chose this signature from Brook's Images. I love the design along with the flowers.
This is another signature I picked from Brook's "Beyond the Pond" Images after winning a 3k certificate. The design caught my eye as well as the flowers. I love the black detail and along with the orange flowers giving off a dramatic effect. The orange lettering makes it all come together.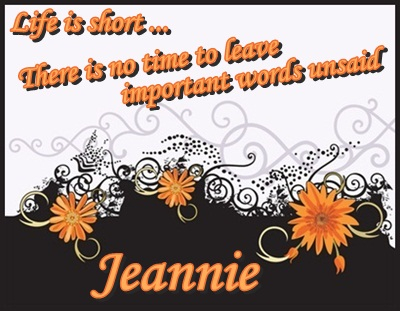 © Copyright 2013 Jeannie🦋 (UN: sjs55049 at Writing.Com). All rights reserved.
Jeannie🦋 has granted Writing.Com, its affiliates and its syndicates non-exclusive rights to display this work.
Printed from https://www.writing.com/main/images/item_id/1919021-Jeannies-Life-is-Short-sig