Printed from https://www.writing.com/main/view_item/item_id/1745873-Fantasy-Love-Not-Meant-To-Be
| | |
| --- | --- |
| | A supernatural love poem. |


His eyes were dark as coal,
He was a pirate by trade.
Gold is what he was after
but he fell in love along the way.

She sailed the seven seas with him
but could never really be with him.
She had a hunger for his love.
He was the rock she clung to.

Robbing ships and fighting battles.
She wanted more for them
but he could never leave the sea
and neither could she, both for different reasons.

She followed him across the waters,
then came that fateful day as she
watched his ship done in by a cannon and set on fire
and suffered a heartbreak as he
died in her arms in the sea.


His death was tragic for her.
She had always known that they weren't meant to be.
She was a mermaid and they couldn't live together on dry land.
His spirit is with her as she swims in the sea.

You can see them on a moonlit night,
A mermaid swimming and a pirate ghost
who are together at last.
Who says their love wasn't meant to be?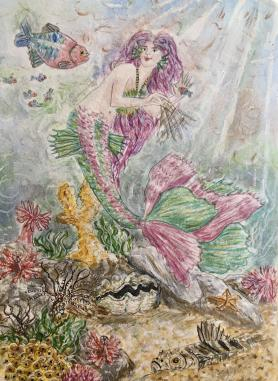 © Copyright 2011 Princess Megan Rose (tigger at Writing.Com). All rights reserved.
Writing.Com, its affiliates and syndicates have been granted non-exclusive rights to display this work.
Printed from https://www.writing.com/main/view_item/item_id/1745873-Fantasy-Love-Not-Meant-To-Be