Printed from https://www.writing.com/main/view_item/item_id/2096519-Downton-Abbey-The-1920s-and-Women
| | |
| --- | --- |
| | Downton Abbey, Women and the 1920's and changes. |

"I Am woman. Hear me Roar." A song by Helen Reddy. This song wasn't in the 1920's but women started to roar in the 1920's. No more corsets. Women wore shorter dresses, bobbed their hair, did the Charleston, dyed their hair. Women were acting. They drove cars and started to roar. They could even get divorced.

"I am woman. Hear me roar."
I am invincible. I am strong.
If I have to, I can do anything."

I always loved this song. This song could have applied to women in the 1920's. They were starting to evolve. I feel like I can do anything. Women have jobs, raise kids and we are equals as it should be. I went to a 1920's Tea yesterday. To read about this:
"1920's Downton Abbey Tea"


They talked about the Roaring 20's. We had men serve us drinks and food at this tea. They were really nice. I dressed in lavender in an outfit that Mary Crawley would wear and I got to go on stage with other women who dressed like Flappers and in 1920's clothes. I posed and everyone applauded. I did feel like Lady Mary.

Women got the right to vote in the 1920's. They became nurses in World War 1 and World War 11. Sybil od "Downton Abbey" was a nurse. I would have been a nurse back then. "Downton Abbey" had some 1920's outfits like we have in the United States. Edith and Mary had short hair. So did Cora. It seems like the Roaring 20's was happening in England as well as the US. The "Downton Abbey" women were ruled by men. They came quite a ways just Jane Austen's time. The old cars, the 1920's. I was reminded of that at the Tea yesterday. I think of the 20's, I think of Dillinger and Al Capone and they hung out in the county I lived in years ago because we live 2 and a half hours from Chicago.

I love the fashions of the 1920's. I chose a long skirt with a train and a long sleeve blouse jacket and it looked like a Mary Crawley outfit. I felt like I lived at Downton Abbey for one day. I love "Downton Abbey". I even had a long cigarette holder. I was a lady yesterday. I was sad when Matthew was killed off in the third season. I grieved along with Mary. She married that race car driver in the last season. I was hoping she would marry Bronson, her late sister's husband. Lady Mary was my favorite. She was so mean to Edith. They made up in the end. The Grandmother played by Maggie Smith. She reminds me of my grandmother. My mother was dressed in white for the Tea like Lady Cora. I do miss "Downton Abbey." I have my books about it and a little mansion of "Downton Abbey" that lights up and plays music. I love it. I loved the show. I love Carson, the butler and Hugh Bonneville. He could be my father. He played Mr. Bennett in a "Pride and Prejudice" movie. I love the show.

I once dressed as a Flapper in fifth grade. I didn't get to wear long pearls but I do now.. I was in a "Downton Abbey" mood. They had Barbies dressed in 1920's outfits. One was dressed in a lavender outfit. I bought that one and a Barbie dressed in a long lavender dress and hat and another was wearing a long pink dress and hat.

I think I would have like to be a woman who was a Flapper in the 1920's but I wouldn't want a gangster boyfriend. I would definitely appreciated the rights women finally got in the 1920's. This era is gone but we can have teas and historical events and bring back old fashions and memories. The 1920's was interesting and then the stock market crash happened. We have life changing events all the time.

I just wanted to write this and share this. I will be watching some "Downton Abbey" DVD's and go as Mary Crawley for Halloween. Maybe I will find me a Flapper outfit and do the Charleston. Why not?

Since the Dowton Abbey movie came out, I have been in a Downton Abbey mood and wish the ladies would have a Downton Abbey Tea again. I have been watching the DVD's and reading my reference books of Downton Abbey. I have missed this show. I have my little miniature mansion of Downton Abbey that plays the theme song when you press the button. I have three Downton Abbey necklaces and it is amazing how a movie about Downton comes out and I am excited again. I will come down one of these days.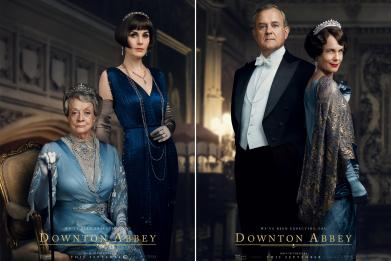 © Copyright 2016 Princess Megan Rose (tigger at Writing.Com). All rights reserved.
Writing.Com, its affiliates and syndicates have been granted non-exclusive rights to display this work.
Printed from https://www.writing.com/main/view_item/item_id/2096519-Downton-Abbey-The-1920s-and-Women