Printed from https://www.writing.com/main/view_item/item_id/973480-Dinosaurs-for-Sale
(14)

children's poem inspired by my grandson Kyler A. Schmeider and his passion for dinosaurs
Dinosaurs for Sale
DINOSAURS FOR SALE
the big sign read.
DINOSAURS FOR SALE
just up ahead.
I yelled to my Mom,
"Please, stop the car!"
"It's on the way."
"It's not too far."
We trudged on through
a front-yard jungle.
Dinosaur bones
were piled in a jumble.
Bones were piled on tables.
Bones were piled on chairs.
Those dinosaur bones,
were everywhere.
The man who owned
this dinosaur farm,
had one bad leg,
and one good arm.
"Been diggin' bones,
since I was ten.
But my diggin' days,
are at an end.
So listen, son,
if you search real hard,
you're sure to find treasures,
in my dinosaur yard."
I found an arm marked brontosaurus.
I took two legs from a diplodocus.
I grabbed a skull from a pterodactyl.
It was lots of fun,
and very practical.
I fixed and fitted
those bones together.
It got bigger and bigger,
and better and better.
The best part came
when I finished it.
It was a do-it-yourself
dinosaur kit.
Now outside
on our front lawn
sits my very own dinosaur,
I've named him Juan.
The neighbors fussed
and my parents groaned.
But Juan is stayin'.
He's found a home.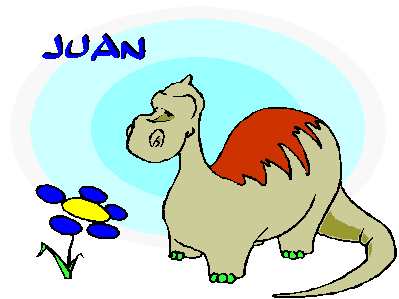 © Copyright 2005 ridinghhood-p.boutilier (ridinghhood at Writing.Com). All rights reserved.
Writing.Com, its affiliates and syndicates have been granted non-exclusive rights to display this work.
Printed from https://www.writing.com/main/view_item/item_id/973480-Dinosaurs-for-Sale