by

Debi Wharton

Just my jibber jabberings.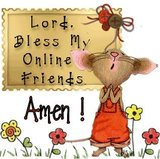 To my beloved husband, and very best friend
Eric Wharton
You are my greatest treasure and I love you.
http://dayswithdebi.blogspot.com/
© Copyright 2014 Debi Wharton (UN: debiwharton at Writing.Com). All rights reserved.
Debi Wharton has granted Writing.Com, its affiliates and its syndicates non-exclusive rights to display this work.
Log In To Leave Feedback