Printed from http://www.Writing.Com/view/1878897
(4)

Promote a recent entry in your Writing.Com blog here on The Blog Board!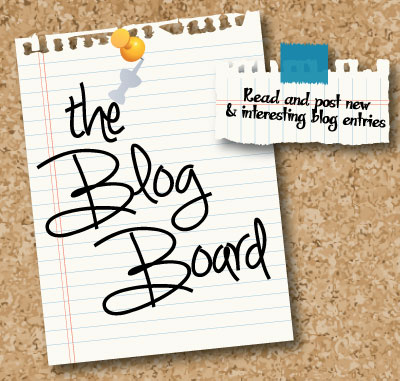 Welcome to the Writing.Com Blog Board.

Find new and interesting blogs by browsing the entries plugged here.



If you'd like to plug an entry here, please follow these rules:

Post entries only from blogs rated E thru 18+ where the entry itself has an E rated subject line.

All written text in plugs should follow this item's E rating.

Post each entry only one time per page. Once it has been pushed off the page, you are welcome to re-add it.

Please limit your posts to 3 different entries on the page at any one time.

In order to provide fair exposure to all members, anyone who does not follow the rules above may have all of their submissions removed from the page without prior notice or warning. If you have a question about this page or need to have an incorrect listing removed, please visit "Plug Page Help"
.

Check out these blogging activities:
"30-Day Blogging Challenge"


Want more blogs? Check out: The Complete Blog List
Tip: Click the + icon above to make this a favorite. It'll pop onto your list whenever new entries are added.
Plugger: CatherineSarah

Pluggee: My Series Handbook
(Rated: E)
Plug Time: 06-29-15 @ 11:58pm
The Plug: Details can be so hard to keep track of, so I came up with a solution.
Plugger: spaulphil

Pluggee: Stuff of Earth
(Rated: 13+)
Plug Time: 06-29-15 @ 1:11pm
The Plug: The stuff of earth demands our attention. I'm not sure I want to give it anymore. Some thoughts on life and our toys.
Total Displayed: 2
In & Out Submission Settings:
Self Deletion:
Allowed
Direct Follow Ups:
Allowed
Post Limiting:
Limited to 3 Posts.
Log In To Leave Feedback
Printed from http://www.Writing.Com/view/1878897