Printed from https://www.writing.com/main/books/entry_id/1003968-Domboshawa
#
1003968
added
February 8, 2021 at 9:51am
Restrictions:
None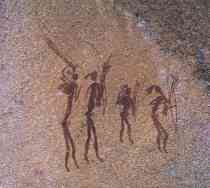 Domboshawa

The humped, bare granite hills,
like whale backs scattered in the sea of veld,
are laccoliths, igneous intrusions
into the strata since worn away
leaving the grey landscapes of a former age.
There are often caves and overhangs,
eroded by millenia of water,
painted with the lives of vanished peoples.


Line Count: 8
Free Verse
For Express It In Eight, February 08 2021
Prompt: Cave.

© Copyright 2021 Beholden (UN: beholden at Writing.Com). All rights reserved.
Beholden has granted Writing.Com, its affiliates and its syndicates non-exclusive rights to display this work.
Printed from https://www.writing.com/main/books/entry_id/1003968-Domboshawa