Printed from https://www.writing.com/main/books/entry_id/1008436-Goals-for-April-12th---April-18th
(1)

A place to keep my personal goals and record progress.
#
1008436
added
April 16, 2021 at 8:27pm
Restrictions:
None
Goals for April 12th - April 18th
Update:
I have made up one Blog a day so far starting Tuesday except for today. I am working on the Bible study tonight. I have got a good start on it so far. I walked 30 minutes today and yesterday. If I do it again tomorrow then that will be 3 days. My back ached and I got kind of shaky, but I did it anyway. I have worked a little at a time on the housework. I work about 20 minutes at a time and rest until I feel like doing another 20 minutes. I have got 3 chords on the guitar to practice. When I feel good about those, I will go on to another lesson. I am usually writing my blog or something on here while I am resting if I feel up to it. I am determined to be productive and to fight this illness in my body that has gotten a hold of me. Although, some days I feel like it has already whipped my butt. At least I made good progress this week.

I never realized how much an autoimmune disease can put you out of commission. I also never dreamed I would have one myself. I wasn't even aware until recently that autoimmune diseases run on both sides of my family. I didn't hear people talk about them much. It is strange how everything seemed to flare up all at once and pull me down out of nowhere.

I would feel fatigued at different times of my life, but it seemed it was always chalked up to my low thyroid problem regardless if my levels were good with my medication or not. I was just told to rest until I felt better. I would eventually feel at least some better until the next round of fatigue. This along with my anxiety and bouts of depression made it difficult to hold down a job longer than around a year at a time if I was lucky. I have always been a hard worker and not lazy when paid to do a job. So it is not that I am not willing to work. Then you add in my soft heart and wanting to care for my family and friends.

Sometimes I have felt pulled in a lot of different directions. Maybe I didn't have my priorities right. I don't know, and I don't know if I would do it differently if I could go back and do it all again. Life has not gone like I wanted it to go. It has been full of ups and downs and lots of disappointments. At least it hasn't been a boring one. I have got plenty of stories to tell, and I have found this website to tell them on.

For the record, I have no intention of whining about my issues. I may try to explore the reason for them within myself to understand them better. However, I think I would rather talk about it in hopes that it may help others at least know they aren't alone in feeling the way they do. I just needed to get that off my chest.

--------------------------------------------------------------------------------------------------------

Well, now that I found out that the doctor suspects I may have rheumatoid arthritis or some other autoimmune disease, I know my condition is not likely to be curable as I was hoping. Probably, the best I can hope for is at least some temporary relief of the symptoms. Speaking of which, I am experiencing some brain fog at the moment. I didn't post my goals yesterday because I honestly didn't have time. I did good to finish writing the Bible study. I even forgot to post it in the forum until this morning, but announced in the newsfeed it was done. Lol That is how loopy I am right now. Yesterday, I had to take my roommate to her first pain management appointment. We were there a good 3-4 hours. Before we went to the appointment, we had people over at our apartment. I didn't get back until about 4 pm. I didn't even do my blog yesterday. It was a busy day.

Anyway, taking this into consideration, I am going to have to rethink how I make plans. It may take some time for me to get it figured out.

Here are my goals for this week.

1. Start making up a minimum of 1 blog per week, more if possible.

2. Start writing next week's Bible study sooner, and try to finish writing it by Sunday.

3. I have to start walking 30 minutes at least 3 days a week rather I feel like it or not.

4. I am hoping to have time to do some sewing.

5. Keep making progress on house cleaning.

6. Work towards learning to play the guitar.

Jesus is my permanent anchor!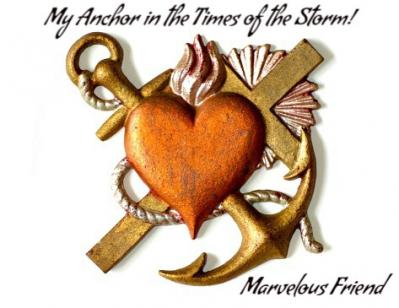 © Copyright 2021 Marvelous Friend (UN: pickmarvilla at Writing.Com). All rights reserved.
Marvelous Friend has granted Writing.Com, its affiliates and its syndicates non-exclusive rights to display this work.
Printed from https://www.writing.com/main/books/entry_id/1008436-Goals-for-April-12th---April-18th