Printed from https://www.writing.com/main/books/entry_id/1008759-Goals-for-week-of-419-426
(1)

A place to keep my personal goals and record progress.
#
1008759
added
April 24, 2021 at 5:29pm
Restrictions:
None
Goals for week of 4/19-4/26
I walked 30 minutes for 2 days at least. I didn't work on the guitar this week. My priorities were elsewhere. I did work on the housecleaning. It has been quite the week. I felt like I I needed to finish next week 's Bible study before I caught up my blogs. I have some editing left to do but it is written for the most part. I am going through a bit of a spiritual battle right now. There was an unexpected death of an acquaintance. There was just a lot of unexpected stuff this week. It wasn't all bad, just kind of busy. Sometimes life just doesn't go the way we plan it.

------------------------------------------------------------------------------------------------------

I am still feeling tired from last week. I will continue to press on though. I don't like being tired all the time. It is not just a take a nap and get over it tiredness. It is an I could become a bear and hibernate all winter and still not feel like I got enough sleep. It is mental and emotional exhaustion as well as a physical one. Add to that a feeling of aching all over. Add to that dealing with stomach issues like diarrhea, occasional nausea, indigestion, and an overall feeling of not feeling well. On top of that add heat intolerance and pouring sweat all the time if not in front of the fan. Oh! Don't forget the frequent headaches, blurred vision, and shakiness. That is what I am going through and have been since the beginning of the year. All I knew in January that I had some kind of inflammation showing up in my bloodwork. Great! At least I know it really is something wrong and I am not imagining it. I recently got more bloodwork done. The inflammation is still there. The Dr suspects I have rheumatoid arthritis and will have to go to a rheumatologist to confirm it and check for other autoimmune diseases. Wow! Just Wow! It is kind of hard to wrap my head around it all. In the meantime, lying around and resting seems to be adding to my problems. So, I am determined to exercise and hopefully build my strength back up. I feel week. I will get up and do things a little at a time as my body allows it. Apparently, I will just have to learn to deal with the aches and pains and tiredness unless a Dr can give me something to feel better. I plan to talk to my primary Dr about doing some kind of elimination diet to find out about food intolerances. Anyway, that is where I am right now.

1. Walk 30 minutes a day a minimum of 3 days this week.

2. Work on learning guitar.

3. Work on making some more crafts to sell (I have a specialist to pay for in the near future.)

4. Continue working towards getting apartment cleaned up

5. Finish catching up my blogs



Jesus is my permanent anchor!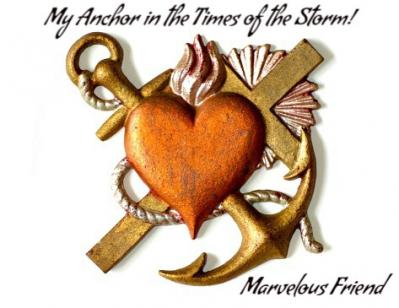 © Copyright 2021 Marvelous Friend (UN: pickmarvilla at Writing.Com). All rights reserved.
Marvelous Friend has granted Writing.Com, its affiliates and its syndicates non-exclusive rights to display this work.
Printed from https://www.writing.com/main/books/entry_id/1008759-Goals-for-week-of-419-426