Printed from https://www.writing.com/main/books/entry_id/1017401-Talking-with-my-granddaughter-Leah
(5)

by

Jeannie☃️

Well, here it goes! 'The Bard's Hall Contest' got me blogging again, so wish me luck!
#
1017401
added
September 14, 2021 at 1:58pm
Restrictions:
None
Talking with my granddaughter, Leah
Had a long talk with my granddaughter, Leah, who needed to talk about her old job at Farm and Home. She worked here after school and had some interesting instances that happen to her. Some of them were downright hilarious! We laughed about how silly some customers can be while others can be so endearing.

We talked about the animals that we raised on our hobby farm, cows and the bull which had her pinned up against the wall when she tried to feed him. Grandpa rescued her from a very dangerous situation and asked what she was thinking. She said her brother, Nick, told her to feed him. "You don't go in there again, do you hear me!" Grandpa ordered, deadly afraid how a bad situation could of turned for the worse. Lets just say, she never went in there again, and Nick had a talking to about it.

Leah loved the goats, sheep, Bosco the Llama, Daisy the Donkey, and the horses. Her horse was named Chrystal. Here's a picture of Leah riding Chrystal.


Leah loved our dog Bo, and he went with her wherever she went. I thing he was protecting her because she was such a little girl. He died when he was 12 years old, and we still miss him and talk about him. He was a German Shepherd but had such silky hair, His coloring was softer brown, almost white in color and black. Here is Leah in a Kayak with Bo beside her.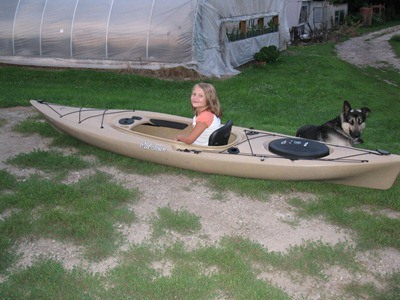 Leah loved the baby goats, and played with them after school. She had names for each of them. Here she is with two of the goats, Whitey, and Sidewinder - he would jump up and spin around, hence his name.
We had a lovely chat, we talked for three hours remembering the animals on the hobby farm. It just went from one subject to another. She got home from work and needed to talk. Staring at a computer at night for twelve hours can get tiring, so we talked until she was tired. Leah is eighteen and just graduated this year. She is working to save money for college.
© Copyright 2021 Jeannie☃️ (UN: sjs55049 at Writing.Com). All rights reserved.
Jeannie☃️ has granted Writing.Com, its affiliates and its syndicates non-exclusive rights to display this work.
Printed from https://www.writing.com/main/books/entry_id/1017401-Talking-with-my-granddaughter-Leah