Printed from https://www.writing.com/main/books/entry_id/1031970-Take-a-tour-Andre-Youd-love-it
(5)

by

Jeannie🦋

Well, here it goes! 'The Bard's Hall Contest' got me blogging again, so wish me luck!
#
1031970
added
May 5, 2022 at 3:37pm
Restrictions:
None
Take a tour, Andre. You'd love it!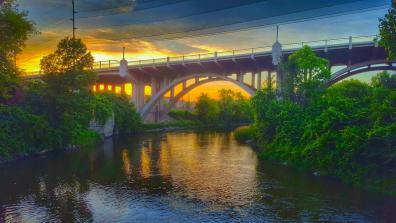 Prompt 4: What places, sites, locations should Andre visit in your hometown?

If Andre goes on a tour, it will take him past State Academy for the deaf, another stately building established in 1863. It now also houses children who are blind. There are day students who come and go home. Then there are students who live too far away and are housed in dormitories.

Past Shattuck St. Mary's School is a coeducational Episcopal-affiliated boarding school – Approximately 70% of its students are boarders. It has been in existence since 1858. It is known for teaching engineering, bioscience, pre-conservatory music, and vocal performance. It also has hockey, soccer, figure skating, and golf in its curriculum.

Past where Faribault has a BMX track which stands for Bicycle Motor Cross. Nearby there's a state-of-the-art skate park, an aquatic center with zero depths and slides, a golf course, and a paintball course. I'm sure he would come away with this being his favorite place. There is a new Trail Head facility that starts your bike journey down the Sakatah State trail that's 39 miles to Mankato (a nearby city), past beautiful prairies and picturesque lakes.

The Cheese Cave – A gourmet destination that offers samples from Faribault Dairy. Very tasty!

Paradise Center for the Arts – This place is beautifully restored, it's a local theater with Hollywood genre architecture.

Cathedral of Our Merciful Savior – First Cathedral of the American Episcopal built in 1862

Donahue's Greenhouse - Over 130 varieties of climbing Clematis vines and holiday poinsettia. What a beautiful aroma when touring through here, Andre!

Historic Downtown – More buildings on the National Historic Register than any other outstate city in Minnesota.

Ableman Apple Creek Orchard – Beautiful Orchard with apples ready for the picking. Does Andre love apples?

Rice County Historical Museum – They display local history topics from pre-contact Native Americans to the 20th century.




2
Like
•
Comment
•
View 1 comment
© Copyright 2022 Jeannie🦋 (UN: sjs55049 at Writing.Com). All rights reserved.
Jeannie🦋 has granted Writing.Com, its affiliates and its syndicates non-exclusive rights to display this work.
Printed from https://www.writing.com/main/books/entry_id/1031970-Take-a-tour-Andre-Youd-love-it