Printed from https://www.writing.com/main/books/entry_id/293219-Cinderellas-Ball
| | |
| --- | --- |
| | Cinderella's life after the glass slipper. Other fairy tale scenarios included. |
#
293219
added
October 25, 2015 at 5:09pm
Restrictions:
None
We had so much fun at the Ball. Drizella and Anastasia are to be married. Drizella is going to marry a Count and Anastasia will be married to the Ambassador. The men are quite a few years older then them but my sisters seem to be happy. Step mother Lady Termaine is happy with the match. She has been hanging out with my Prince's father and they seem taken with each other. My Prince Charmimg's father was ill for quite awhile but he's better now and that's why step mother started coming to visit. Step mother actually hugged me and told me she's happy and that she wants me to be her daughter someday but she wasn't ready. That's a start. Maybe after the baby is born. My little daughter will be here in a few months. My Prince and father-in-law and sisters are so happy for me. So is step mommy. I called her step mommy and she smiled at me. Life has been good for us.

I met Ariel. She and her Prince attended our Ball and stayed for awhile with us. She used to be a mermaid but her father, a Merman let her be human after a bad sea witch almost killed her and her Prince. She gave her beautiful voice to the sea witch in exchange to be human but the evil sea witch deceived her but her Prince saved her. The sea witch is dead. Poor Snow White. Her step mother tried to kill her and she was recued by her Prince's kiss and the seven dwarfs. At least, step mommy never tried to kill me.

I went to visit Pooh Bear and Eeyore in Hundred Acre Wood. Rabbitt gave me some carrots and Eeyore picked me some flowers. Kangra served me tea and Roo sat on my lap and read me a story of Hansel and Gretel who were almost eaten by a witch. Where do these stories come from? I had a good day there visiting. Christopher Robin gave me a stuffed zebra for the baby. I have never seen a zebra but it looks a lot like Eeyore.

My sisters and I are having their engagement party tonight. I can hardly wait for the wedding. We are all excited. Soon, the baby will be born. I can't tell the Prince that she will be a girl but I know he will be happy. We can have sons later.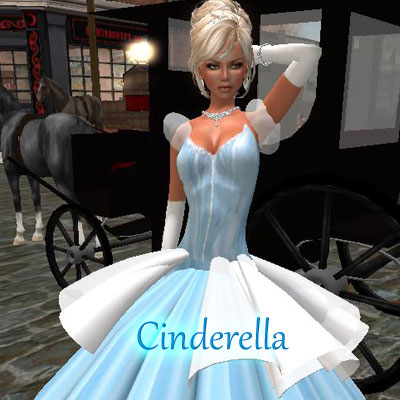 © Copyright 2015 Princess Megan Rose (UN: tigger at Writing.Com). All rights reserved.
Princess Megan Rose has granted Writing.Com, its affiliates and its syndicates non-exclusive rights to display this work.
Printed from https://www.writing.com/main/books/entry_id/293219-Cinderellas-Ball