Printed from https://www.writing.com/main/books/entry_id/316368-Christmas-At-The-Castle
| | |
| --- | --- |
| | Cinderella's life after the glass slipper. Other fairy tale scenarios included. |
#
316368
added
December 2, 2004 at 12:07pm
Restrictions:
None
We had a beautiful Christmas at the castle. Emerald is seven now and Nolan is almost five. Snow White, Belle, Aurora, Ariel and their Princes and children were all here for Christmas. So were my sisters Drizella, Anastasia, their husbands and children were here. It was so cute to see the dwarfs here with their wives and Sneezy, Dopey, Doc and Grumpy have litle dwarf children. They are so sweet and all the other children love them. I love holding the little dwarf children on my lap.

We decorated the tree with acorns and homemade ornaments out of clay, paper and paint that the children made of all of us. That was so touching. Tavia loved helping the children decrorate. He is getting older but he is like a child himself. That is so sweet. We put apples on the tree. A partridge lives in the Christmas Tree and she is sitting on eggs. We will soon have baby partridges.

We had chestnuts roasting on an open fire. We had a variety of cakes to eat. We also had gingerbread and spice cookies. Ginger is so hard to come by. We had fish, cooked vegetables and grapes.

We hung stockings for everyone and they were filled with goodies. Eeyore, Pooh, Tigger, Piglet, Kanga and Roo showed up and it was so sweet. They bought a cute little tree from Hundred Acre Wood and it was decorated so cute. They bought a Gingerbread Castle that liked like our castle. That was so sweet. They bought dolls for all the girls and some tin horns for the boy children.Boy! Did things get noisy after that. Piglet kept saying: "Oh, Dear!" Pooh bought us honey and Eeyore bought candles that he and the gang had made. Lady Tremaine baked sugar plums and they were delicious. Mother got a new chair or should I say throne? to sit in. I got a golden crown adorned in pearls and Emerald wore her emerald crown that Tavia had bought for her.

The best surprise of all was when Santa Claus showed up with his elves and reindeer. The children petted the reindeer and got to take rides on them. That was so sweet of Santa. The elves and dwarfs got in a fight. The elves called the dwarfs short and the elves aren't much taller themselves. Santa broke up the fight and the dwarfs helped the elves unload the sleigh. We gave Santa milk, cookies, sugar plums and gingerbread men cookies. He made us promise not to tell Mrs. Claus. I have a feeling that my Fairy Godmother is really Mrs. Claus. No one else could see her biut she was dressed like Mrs. Claus and I heard her say she is putting Santa on a diet. She has him on a diet all year round and she is glad she married him. She doesn't know I heard her say that.
It was a great night and Santa even stopped by the dragons to give them presents. He gave them cookies, candles and necklaces and other jewelery. Dragons love these treasures.

It is a quiet night but it's snowing lightly and I just saw Santa and his reindeer in the sky heading back to the North Pole. It is Christmas Morning and it's almost dawn. I slept earlier but I am ready for Christmas Day. Merry Christmas To All and Peace, Love and Happiness for the New Year!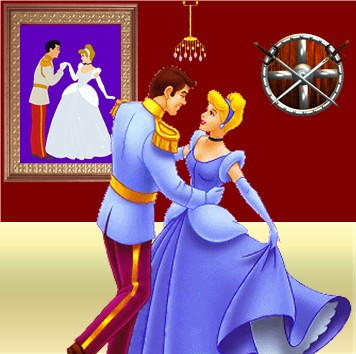 ** Image ID #913273 Unavailable **
** Image ID #913284 Unavailable **

© Copyright 2004 Princess Megan Rose (UN: tigger at Writing.Com). All rights reserved.
Princess Megan Rose has granted Writing.Com, its affiliates and its syndicates non-exclusive rights to display this work.
Printed from https://www.writing.com/main/books/entry_id/316368-Christmas-At-The-Castle