January 9, 2007 marked the one year anniversary of my family's return to New Orleans. We managed to make it back home five months after the city flooded, and realize how lucky we are because many who want to be home aren't able to return yet.

I can imagine how some people who weren't born in New Orleans, or haven't visited New Orleans, might wonder why so many of the city's residents long to return home given the rebuilding that remains to be done and the recent spike in crime. And while I wish I could explain why we look so forward to returning to New Orleans in an eloquent way, all I can truly say is that some of us discovered that there really is no place like home.



New Orleans 'a courtesan whose hold is strong upon the mature, to whose charm the young must respond. And all who leave her' return to her when she smiles across her languid fan. ~ William Faulkner



Some of us evacuated, or were evacuated, to other cities and states that truly embraced us while some of us ended up in places that pretended to care. Evacuees who found better jobs, better pay, and greater happiness in the other cities decided to stay; evacuees who found themselves mostly unhappy in other cities decided to return. I imagine there were some of us who planned to return anyway, no matter what. But I suspect that the driving force behind some of us wanting to return is the stereotyping that we faced. Why stay in a town that has already decided that you're a criminal and a "sinner" because you're from the inner city, and more specifically because you're from New Orleans?

One of the things my mom and dad taught me when they were alive was that sometimes we have to try to place ourselves in the shoes of others to better understand their situations. When we fail to do this, then I believe that's when we start losing our humanity.






Okay, it's time to party, now. Today is my birthday--I'm turning 29 for the 8th time since I

truly

turned 29.
Since it's usually also the carnival season, here in New Orleans, when my birthday arrives, I celebrate with King Cake instead of a regular birthday cake. There will also be beignets, dirty rice, shrimp etouffee, boiled crawfish and shrimp, crawfish pasta, gumbo, muffalettas, and more dishes to feast on.



New Orleans food is as delicious as the less criminal forms of sin. ~ Mark Twain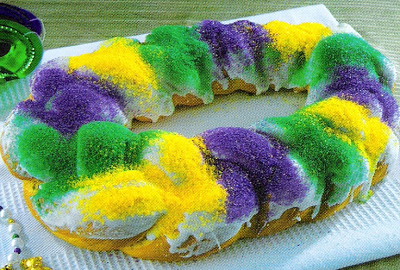 King Cake! Yum!
http://cannataskingcakes.com/history.html





"We are not a city of mint-julep swilling Southern belles." ~ Bunny Matthews, Artist, 2005



To help work off the calories from the food, there's going to be zydeco filling the air, and a second line led by a brass band.



New Orleans, that was a place where the music was as natural as the air. The people were ready for it like it was sun and rain. ~ Sidney Bechet





"In New Orleans...You can't separate nothing from nothing. Everything mingles each into the other…until nothing is purely itself but becomes part of one funky gumbo." ~ Mac Rebennack A.K.A. Dr. John, Musician



Everyone is invited to the party, but instead of bringing gifts please make a small donation to any of these causes: http://www.justgive.org/index.html, http://www.one.org/, http://www.stjude.tv, http://www.bravenet.com/global/tsunami.php, http://www.BushClintonKatrinaFund.org/, and http://www.rainn.org/. Thanks!
Don't you just love these long, rainy afternoons in New Orleans when an hour isn't an hour - but a little piece of eternity dropped into your hands - and who knows what to do with it? ~ Tennessee Williams, 'A Streetcar Named Desire'