Printed from https://www.writing.com/main/books/entry_id/532287-Blueberry-Festival-Time-My-New-Project
| | |
| --- | --- |
| | Entries for Blog City are here and maybe other surprises. |
#
532287
added
September 2, 2007 at 11:54am
Restrictions:
None
Blueberry Festival Time, My New Project
It is Blueberry Festival time again. It always happens on Labor Day Weekend. The festival is held in the park. There are local singers, flea markets, plenty of food to eat and a lot of foods are made with blueberries. There are games. People come from all over. There is also a carnival for the children and adults. My mother and I go. I bought a sign that has pretty colored wooden dolls and flowers at the top and the sign says: "Doll Collector." I collect dolls and I love it. I also bought a porcelain Scarlett O'Hara doll wearing the red dress. I also bought this neat decorative couch with eoses on it on white tapestry that holds rings. It is so cute. The Beatles impersonaters were there and they sing just like the Beatles. They have been there every year for nine years.

I haven't written here in a while in my journal. My closest friend Gretchen quit at the mental healrh facility I work at. We work midnights together and I will miss her.

I put together a lavender Brandy Sniffer. By this I mean, I put beach sand and nice big colored sea shells in it. It really looks pretty. I am still scrapbooking.

My father just had surgery for prostate cancer and is doing well. He and Mom are always riding on the four wheeler.

Summer is almost over. The fields are so green by my house and the ducks are hanging around the ponds. We have some Canadian geese, too. They are my favorite.

Hope everyone is doing well.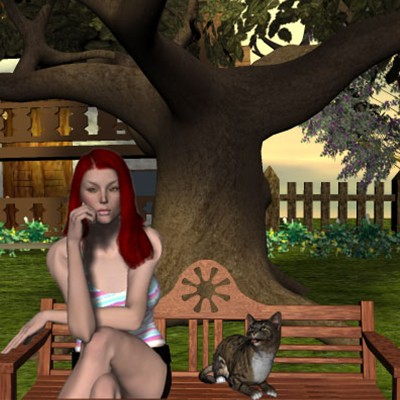 © Copyright 2007 Princess Megan Rose (UN: tigger at Writing.Com). All rights reserved.
Princess Megan Rose has granted Writing.Com, its affiliates and its syndicates non-exclusive rights to display this work.
Printed from https://www.writing.com/main/books/entry_id/532287-Blueberry-Festival-Time-My-New-Project