Printed from https://www.writing.com/main/books/entry_id/820582
| | |
| --- | --- |
| | Entries for Blog City are here and maybe other surprises. |
#
820582
added
June 23, 2014 at 7:50am
Restrictions:
None
Parents and How Our Relationship Has Changed
Welcome To My Reality Prompt: Have you enjoyed the adult relationship you have with your parents? Have things changed or stayed the same?

My gather was in Viet Nam three years of my high school life and he was in the Air Force and flew air planes so we were never close. Each trip to Viet Nam changed him. It made him grumpy and way too serious. He drank for a few years and then he found God. I am glad he did but he isn't happy. He is so critical and we don't talk much. He has been there for me through a crisis and I am there for him. I go visit and he sits downstairs and watches TV. He doesn't come up and say "Hi" and I don't, either. I just talk to Mom.

Before Dad's trips to Viet Nam, we used to have pillow fights and he woke me up to tell me The Beatles movies were playing at the theatre near by and Mom was going to take me to the movies. He was off of a flying trip. We used to laugh and talk. He would take me to the library and out to the base to see the military planes. After Viet Nam, Dad wasn't fun anymore.

Mom and I go shopping and we scrapbook and rubber stamp cards together. We talk on the phone a lot. My parents only live ten minutes away. My husband, son, his wife and I have Christmas together and New Years. My parents go to my Dad's family for Thanksgiving and Labor Day and Memorial Day, they don't do anything and my husband and I don't, either. I buy my mother a corsage to wear to Church on Mother's Day and give Dad a card and money for Father's Day. I tell Mom everything. Dad likes my son better then me because he always wanted a boy. I have a half sister that is Dad's daughter and she came into our life later. She thinks Dad walks on water. She wasn't raised by him but I wasn't either that much. I spent every summer with my grandparents and Mom stayed with Dad. When Dad was in Viet Nam, Mom and I lived with my grandparents. When Dad was home, Mom went to North Carolina with Dad for six weeks and I stayed with my grandparents. Same with my Senior Year. I lived with my grandparents. I had too much going for me and was going to be in Junior Miss and Thespian Society so I stayed with my grandparents. Dad was home from his third trip to Viet Nam and he and Mom moved to Arkansas and Dad retired after that year. Mom didn't like my boyfriends I had in high school and said I wore too much make up and we fought at times. My mother and I are close now. Dad and I never will be. We have a love hate relationship and are there for each other in a crisis. I guess that is a good thing.
511 Words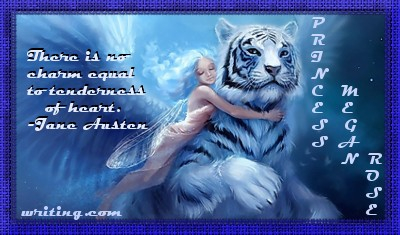 © Copyright 2014 Princess Morticia Megan Rose (UN: tigger at Writing.Com). All rights reserved.
Princess Morticia Megan Rose has granted Writing.Com, its affiliates and its syndicates non-exclusive rights to display this work.
Printed from https://www.writing.com/main/books/entry_id/820582