Printed from https://www.writing.com/main/books/entry_id/820791-Super-Power
| | |
| --- | --- |
| | Entries for Blog City are here and maybe other surprises. |
#
820791
added
June 25, 2014 at 12:02am
Restrictions:
None
Prompt: I'm a Nurse. What's your super power?

A Nurse I work with has a coffee cup that says this and this is how I got the idea. I pass out pills to the mentally ill and they are needy. They dig through the garbage on my shift and try to sneak outdoors and hallucinate. They call 911 on my shift and I have to deal with a dispatcher telling her the patient is being well taken care of. The building is old and the pipes leak in the basement and the Fire Department comes out when the alarm goes off. I need super powers to deal with all this. Once a guy called me on the phone at work and said I kicked his dog. I pass out Meds, break up fights and get cussed out. This is one of my super powers.

Avoiding family feuds, keeping the peace and raising a bratty kid when he was little but he grown up to be a super man. He has a PHD in Psychology and his job is harder then mine. I once went off the road to keep a semi from hitting a car that the semi was going too fast and passed me. He didn't see the car and he was braking so I got off the road and luckily, no one was on the side road I pulled off unto and wanted to turn. I keep my house clean, work a job and make sure my husband, family and friends know that I am there for them. I don't leap tall buildings at a single bound and I don't drive a Bat Mobile or the Knight Rider car but I am a careful driver and I think my car drives itself because I drive to the same places all the time. Surviving my operation and Rehab last summer, I think these can be super powers. We all have them. Just look deep into your inner self and think of all the things you do. You are super.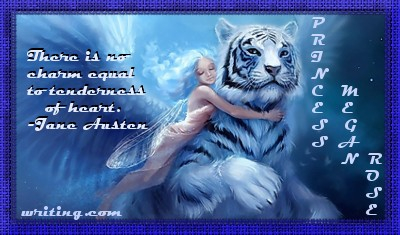 © Copyright 2014 Princess Megan Snow Queen Rose (UN: tigger at Writing.Com). All rights reserved.
Princess Megan Snow Queen Rose has granted Writing.Com, its affiliates and its syndicates non-exclusive rights to display this work.
Printed from https://www.writing.com/main/books/entry_id/820791-Super-Power