Printed from https://www.writing.com/main/books/entry_id/820913
| | |
| --- | --- |
| | Entries for Blog City are here and maybe other surprises. |
#
820913
added
June 26, 2014 at 2:29pm
Restrictions:
None
Favorite Book and My Life As Well
Prompt: Take the first sentence from your favorite book and make it the first sentence of your Blog entry.

"Twilight": My mother drove me to the Air Port with the windows rolled down. My mother doesn't drive or know how. Like Bella, I lived in Arizona but I was four years old and Dad was in the Air Force. I remember Dad driving Mom and I to Tacoma, Washington when I was five. I didn't get to meet vampires and werewolves. How sad. I loved seeing Mount Rainer. I was hoping my son would get the job he wanted in Tacoma, Washington but my husband said we will get there someday. I hope so. My husband and I have flown to Jacksonville, Florida to see my sister. I have only been on a plane three times. Flying scares me and Dad flew planes and I thought I wanted to join The Women's Air Force and fly planes. I don't like flying. It isn't in my blood after all. I love military planes and Dad would take me to see them and I am impressed with them. I love watching "Top Gun" because of the planes. The romance isn't good and you all know how I love romance.

Another book I like is: "Gone With The Wind." I watched that movie last week. I ordered a Scarlett O'Hara Barbie and she came in the mail today. I love the opening scene where she is wearing the white dress. This is the Barbie I got today. She is beautiful. I don't talk much about GWTW but I do love the book and movie. I have some GWTW Barbies of Scarlett in different dresses and a Rhett. I have GWTW plates, too. The opening of the book and movie is so good and the war happens and then it gets sad.

Books feed our imagination. I love Pride and Prejudice. Mr. Darcy changed because of love and you read this and feel like you are part of the book. I would love to be Elizabeth.

Where would we be without books and movies? Like The Muppets car commercial, Boring! I was really happy with the entries I got with this prompt. I think I should go read my books that I love. Thanks for reading.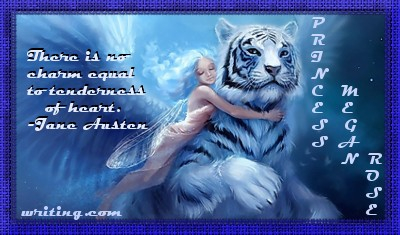 © Copyright 2014 Princess Morticia Megan Rose (UN: tigger at Writing.Com). All rights reserved.
Princess Morticia Megan Rose has granted Writing.Com, its affiliates and its syndicates non-exclusive rights to display this work.
Printed from https://www.writing.com/main/books/entry_id/820913