Printed from https://www.writing.com/main/books/entry_id/821277
| | |
| --- | --- |
| | Entries for Blog City are here and maybe other surprises. |
#
821277
added
June 30, 2014 at 3:00pm
Restrictions:
None
Hardest Thing About Blogging
Welcome To My Reality Prompt: What is the hardest thing about blogging for you personally?

I love doing prompts but sometimes a prompt comes up like a word I never heard of and I am clueless how to use it in a blog entry so I skip it. Sometimes a question comes up about something I don't want to talk about. Like: Were you ever involved in a love triangle? Yes, I was but I didn't answer it. It wasn't like Bella, Edward and Jacob. Neither one was a wolf or a vampire. I wasn't that lucky. They were jerks, jack asses and didn't take life seriously. Sometimes prompts come up that I answered before. There is no need to write them again. Some things I just don't want to write about or care to remember, I don't write entries for these prompts.

When my cat died, I hated to blog about that. I hate blogging about bad things or depressing events. When someone in my family misbehaves, I remind myself they are part of my Dad's family and it isn't important as I blog about them. I can't change them. I don't let them be my problem. I will include them in my prayers and maybe blog about them. I like blogging about good things that are happy and fun. Life isn't all roses so you have to write and do things in life you don't want to. Blogging. I like the word journaling better. It is a way of life. You take the bitter with the sweet. That is what I try to do.

266 Words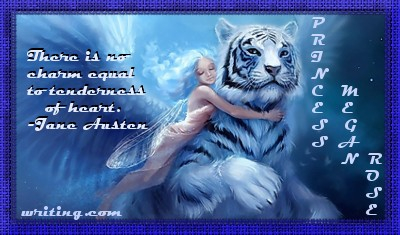 © Copyright 2014 Princess Morticia Megan Rose (UN: tigger at Writing.Com). All rights reserved.
Princess Morticia Megan Rose has granted Writing.Com, its affiliates and its syndicates non-exclusive rights to display this work.
Printed from https://www.writing.com/main/books/entry_id/821277