Printed from https://www.writing.com/main/books/entry_id/823570
| | |
| --- | --- |
| | Entries for various Blog Challenges.I will be expressing my hopes,dreams and fantasies. |
#
823570
added
July 26, 2014 at 9:57am
Restrictions:
None
Prompt: Pick any song or group of song lyrics that describe you. It can be serious or comical. Don't tell us the song or singer.

You were throwing pebbles at my window
and my father said: "Stay away from Juliet!"
I was crying on the staircase and begging you,
please don't go.

You be the Prince and I'll be the Princess.

That was when I has a crush on the boy down the road from my grandparents. I lived with my grandparents and my grandparents didn't approve of him. I would be talking to him and my Grandpa would give him funny looks. I would see him when I could but my grandparents weren't happy about him. I married my Prince, the husband I have and it wasn't the boy down from my grandparents.

He learned to walk while I was away.
He was talking before I knew it.
Little boy blue and the man in the moon,
When you coming home son, I don't know when
but we'll get together then.
We gonna have a good time then.

This describes me and my father's relationship. He was in Viet Nam three times and the Air Force and flew a lot. We will never be close. I didn't see my Dad for the first time until I was eighteen months old. He was stationed in England. This song reminds me of me and my father.

Up those stairs in that little back bedroom-
is where I did my homework and learned to play guitar
and I bet you didn't know under that live oak-
my favorite dog is buried in the yard.

If I could just come in, I swear I will leave,
I won't take nothing but a memory.

You leave home, you move on-
and you do the best you can.
I got lost in this world and forgot who I am.

I did my homework upstairs in a bedroom at my grandparents house where my mother and I lived when my father was in Viet Nam. I never played guitar. My cat Tigger is buried by a corn field my house. I wish I could visit all the homes I lived in when Dad was in the Air Force. I would visit and take nothing but a memory. I went to a two year college, am a QMA, a writer, married, have a 36 year old son and I have been through a lot and done the best I can. Have you guessed the title of this song? I wrote an item about me and this song and I will give you the link to it if you ask. THis is all I have.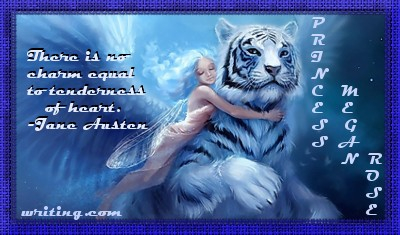 © Copyright 2014 Princess Megan Rose (UN: tigger at Writing.Com). All rights reserved.
Princess Megan Rose has granted Writing.Com, its affiliates and its syndicates non-exclusive rights to display this work.
Printed from https://www.writing.com/main/books/entry_id/823570