Printed from https://www.writing.com/main/books/entry_id/831705
| | |
| --- | --- |
| | Entries for Blog City are here and maybe other surprises. |
#
831705
added
October 20, 2014 at 12:26am
Restrictions:
None
Object I Can't Live Without, Celebrities
Welcome To My Reality Prompt: What is one object you can't live without?

My computer. I write at WDC and I write e-mails to my friends. I do all kinds of things here at WDC, I couldn't do without my computer. When you write something, you put it here on WDC and you don't have to wait for a publisher. Your written items are here for others to see. This is nice. When I had to have it fixed or get a new one, it was a long two days and it stayed longer, it seemed like forever. I research everything on the computer. It is like a life line especially in the winter. I get cabin fever and am snowed in. I am glad I have the computer. A computer can tell you anything you want to know. If I didn't write, my computer probably wouldn't be that important but since I do write, I have to have it.

You can store documents and pictures on your computer and I do that a lot. I have started novels and put them on the computer, so I am glad that I have a computer. I don't like snail mail so the computer is just great. You can keep track of packages that you are expecting. I like to buy things from E-Bay and Amazon sometime. I get books for my Nook. I can find out the latest book releases. I need my computer. I am so thankful for my computer. It is a great invention. I am sure others will agree.

261 Words

Welcome To My Reality Prompt: Who is your favorite celebrity and why?

I have several. Kate Winslet. I fell in love with her acting in "Titanic." She had beautiful red hair and I dyed my hair red. I was never impressed with red hair before until I saw her. She is quite talented. She hid her English accent well in "Titanic." She is good in Jane Austen's Sense and Sensibility. I love that one, too.

Johnny Depp. That man is handsome and my favorite. He can play any role. Like Willy Wonka, Edward Scissorshands, Captain Jack Sparrow and of course Tonto. He is entertaining. He doesn't cause any problems in Hollywood. He doesn't cut down women. He doesn't have a hundred girlfriends like Leonardo DiCaprio even though I adore him. When you know a movie has Johnny Depp in it, you know it will be good. I have Johnny Depp as Captain Jack Sparrow on my Smart Phone. He makes me smile when I have a bad day. All women love Johnny Depp.

Martha Stewart. I wish I could be as good as an Artisan and cook as she is. Like all the Halloween and Christmas things she does. I want to be talented like her.

Jeanne Cooper. She played Katherine Chancellor on "The Young and the Restless" For years. She was beautiful and admired by all. Eric Braden and Peter Bergman. Where would Y&R be without Victor and Jack? They make the show and without Jeanne, we need them.

These are my favorites. I hope you agree.

255 Words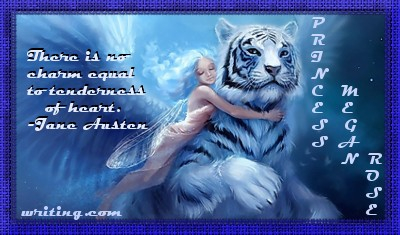 © Copyright 2014 Princess Morticia Megan Rose (UN: tigger at Writing.Com). All rights reserved.
Princess Morticia Megan Rose has granted Writing.Com, its affiliates and its syndicates non-exclusive rights to display this work.
Printed from https://www.writing.com/main/books/entry_id/831705