Printed from https://www.writing.com/main/books/entry_id/854800-Letting-the-muse-speak
(2)

A Shiny New Start to 2015(Never mind it's now 2018!) Oops 2019! Writing why and wherefore.
#
854800
added
July 19, 2015 at 2:33pm
Restrictions:
None
It has been a long long time since I "Let the Muse speak" To me meaning just going with the flow and not spending too much time worrying about how it will come out!
So I kept this small notebook since 2001,(and a few other note-journal books survived out of the hundreds I have kept over a lifetime...)Some are sort of seeds for self-help books/articles-etc I wanted to share with others in print. So many times these "odds and end nuggets of time and collection",have encouraged me in very dark times in my life. Sharing a lot with others in the spoken tongue. Sort of the Oral Tradition as in most cultures. I thought since my life now is busy working to help those in need,as well as my Respite Provider job,helping special needs kids have a good chance for a normal life. I am bound to keep their privacy so my life is off-limits to the public. My friends/family are on a one to one basis with me.

So I will create a healing book and pass it on to those who need it to learn new skills to deal with all kinds of malady's. It is my hope and prayer that some will find some worth in what this is! I will add the link once I get it started--today!!!!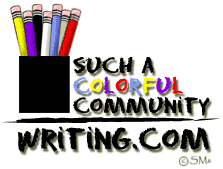 © Copyright 2015 Merry d prays for peace ✌️ (UN: dlspiritwriter at Writing.Com). All rights reserved.
Merry d prays for peace ✌️ has granted Writing.Com, its affiliates and its syndicates non-exclusive rights to display this work.
Printed from https://www.writing.com/main/books/entry_id/854800-Letting-the-muse-speak