#
880784
added
April 29, 2016 at 10:44am
Restrictions:
None
Day 78 ~ Bulbs and more bulbs~
So very excited to have bought my bulbs for dahlias and I found them in so many colors this year. I didn't save my bulbs last year due to an early frost. There just wasn't any time to take them out. So this year I bought 20 bulbs and I can't wait to see the colors of white, dark pink, purple and light pink.

My garden is started to sprout from the ground! Now I can see everything that is new under the leaves from the fall. Garden clean up is something I never tire of.

Gardening for me is therapy for the soul and mind. I get lost in the earth between my fingers and it's like digging for gold. The prep work is apart of it and something I enjoy so much.

I also have this huge angel with a bird bath for the center this year. I am going to spray paint her in a stone spray. I found her in someone's garbage and I am going to save her. Why would someone through that away? Beyond me but I adopted her right away. She has been tucked away in my basement all winter!! Just waiting to come to life.

It's a feel good thing to have something old and something new. A thriving garden blessed with a loving hand and wings of the angel.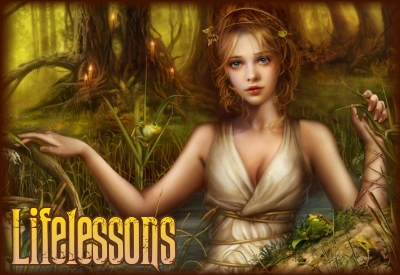 © Copyright 2016 ~Lifelessons~ (UN: lifelessons at Writing.Com). All rights reserved.
~Lifelessons~ has granted Writing.Com, its affiliates and its syndicates non-exclusive rights to display this work.
Log in to Leave Feedback
Printed from https://www.Writing.Com/view/2071486