#
880827
added
April 29, 2016 at 7:52pm
Restrictions:
None
Imagine if we were left to our own hearts without hurt, turmoil, fear, or worry. If everything around us were still and one could just be. How much magic we could make.

I often wonder if things were perfect would we be stronger or weaker. Would we learn the same way as we do in strife? I don't think we could honestly but sometimes my mind lets me wander to a life of just quiet thoughts. Room to love beyond what we comprehend. An openness without judgement or second thoughts.


Of course this isn't the way it is and that is why we allow our imaginations to take us to a place where anything goes. My favorite place of serenity and peace of mind. We can go there on our own if we let go long enough of our troubles. I have done it, so I know it's possible. It isn't easy but man it's so rewarding when you can reach that place if only for a few minutes.

You can almost feel your spirit lift from the center of yourself. I get this when I pull myself away from the world sometimes. Only listening and using my senses to inhale everything good around me. CLosing my eyes and inhaling deeply and letting go with every exhale.

A form of meditation that not only gives you peace but gets rid of long ridden weight. Those things that can weigh on us and stop us from experiencing new prosperity. There is no amount of money in the world that can give you this. It's dedication, it's being kind to one's self, and practice.

During this journey I have found this place again. It wasn't long but it was a new light and a breath of fresh air. I hope anyone that reads this would give it a try. For me it is a spiritual thing but it doesn't have to be if that doesn't inspire you. Consider it a gift to yourself and enjoy a few minutes a day with only the thoughts in your head and in time those thoughts can filter into so many wonderful new ways of thinking.

It's a feel good thing to gift yourself with a clear mind.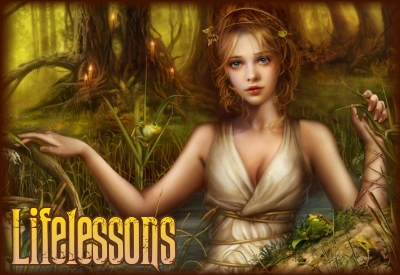 © Copyright 2016 ~Lifelessons~ (UN: lifelessons at Writing.Com). All rights reserved.
~Lifelessons~ has granted Writing.Com, its affiliates and its syndicates non-exclusive rights to display this work.
Log in to Leave Feedback
Printed from https://www.Writing.Com/view/2071486