#
880830
added
April 29, 2016 at 8:12pm
Restrictions:
None
Lately I find myself a little upset that life is a cycle and all that I love will diminish at some point. My mom is getting older, nanny is 94 and my best friend is moving forward. It all happens so quickly and we don't even have enough time to soak it all in.

It is something we have to expect in life. It isn't forever and letting go is never easy. Sitting with mom lately and watching her personality change had me thinking that I too will be there one day. One side of me is already wanting to grieve a loss of the mom that shopped with me, laughed with me and danced with me. She taught me everything i know to this day. My mentor and with all of my challenges she was my strength.

She isn't that old, but she is still not the same woman I once knew. I felt a little bitter about it and I won't lye that I almost felt like being angry towards her about it. She did nothing wrong. It is a bit greedy for me to hold anger for someone who is just aging. I don't ever want to lose my mom and I know the day will come when she won't be there to phone or go hang out with.

She is writing her memoir and it will be with me til the end of time. A piece of her that will hold her hopes and dreams and how her life was in a time that was so different than today. Mom was a university student, a teacher, a mother, a care giver. She spoke four languages at one point in her life but now has forgotten two of them.

She Is a diva when it comes to dressing. She is more daring than myself when it comes to color and style. My mother is not the woman in black but the woman in red and every other crimson color there is in the pallet.

One day I will be right where she is and I hope I am just as wonderful. The cycle that brings us from beginning to end with so many stories in between. Something to be said for life and it wonders. Some things I will always question is the fact that we have to let go of so many things that are wonderful.

The fact that at some point our lives change. The same people that was the staple in our lives may leave and we have to move on. We have to be open to new things, new people and not let go of the same kind of love.

Oh the cycle is not kind but yet it is the way, the only way.

It's a feel good thing to be able to say that my mother is the reason I am who i am today and in this cycle of life she has given me so many gifts to carry on the rest of my cycle in life. Strength being one of them.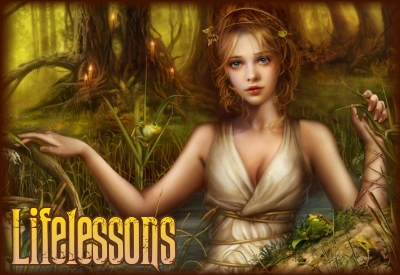 © Copyright 2016 ~Lifelessons~ (UN: lifelessons at Writing.Com). All rights reserved.
~Lifelessons~ has granted Writing.Com, its affiliates and its syndicates non-exclusive rights to display this work.
Log in to Leave Feedback
Printed from https://www.Writing.Com/view/2071486