#
880844
added
April 30, 2016 at 5:15pm
Restrictions:
None
Day 87 ~ Puppy tails and grass ~
A wonderful way to spend the day. Watching sophie roll in the grass, right after I finished washing her. Nice! Her red ball came out of the shed and we played for hours. As I racked the lawn she played and when someone would walk by she would wag her tail. A nice welcome to spring I would say. Even our animals get in the blues when winter feels so long. I can't imagine how good she felt while she laid in the sun, chasing butterflies, romping in the grass.

I love my dog and she brings so much joy to my day. Even when I am not well she will curl up beside me and let me know that she has my back.

when it gets a little warmer yet she will be begging for the hose. Her other favorite thing to do. She will chase the water and get soaked and shake it off. It 's funny how they all have their own little personalities.
Mom says she is going to talk one day. A little chuckle but she is right, Sophie talks with her eyes rather well.

Puppy tails and green grass!!
Welcome spring. You are finally here.

It's a feel good thing to just sit and capture the going ons around us. Seeing everyone out walking and cleaning their yards , laughing and using the barbeque. I can't think of a better way to spend a glorious day.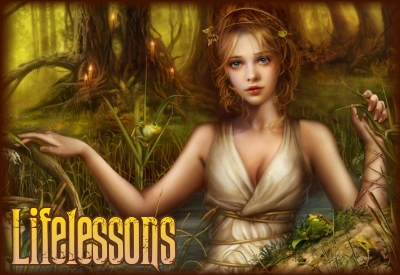 © Copyright 2016 ~Lifelessons~ (UN: lifelessons at Writing.Com). All rights reserved.
~Lifelessons~ has granted Writing.Com, its affiliates and its syndicates non-exclusive rights to display this work.
Log in to Leave Feedback
Printed from https://www.Writing.Com/view/2071486