#
881027
added
May 1, 2016 at 3:22pm
Restrictions:
None
Day 92 ~ Expect nothing but a day of success ~
From the minute we wake up we are faced with things to solve. Some things are out of our control. Certain issues have to be dealt with tactfully and when emotions are high those issues become regretful situations.

Wake up and look in the mirror and smile, every morning. Tell yourself how beautiful you are even with bed head. A day started on a positive note will allow you to get through the day successfully. Nothing is written in stone but how we deal with whatever is thrown our way can make a difference.

Yes it can be overwhelming to try to be happy when things can get so bad. I have been through some heavy stuff, yet I look back and I know I handled it with care. I had to stay positive for everyone else but you know what I stay positive for myself now and what a difference that makes.

I feel lighter and more willing to respond with a happy self. If we aren't happy how could we possibly be happy for everyone else. Nobody can truly fake a smile, at the end of the day we end up alone and in our thoughts. So why not start the day with a smile and love for yourself and end the day with knowing you did your best and pat yourself on the back.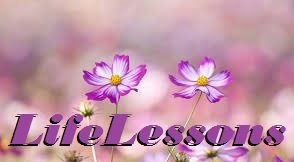 © Copyright 2016 ~Lifelessons~ (UN: lifelessons at Writing.Com). All rights reserved.
~Lifelessons~ has granted Writing.Com, its affiliates and its syndicates non-exclusive rights to display this work.
Log in to Leave Feedback
Printed from https://www.Writing.Com/view/2071486