#
881275
added
May 3, 2016 at 3:12pm
Restrictions:
None
Day 99 ~ cookie cutters ~
Any given holiday we can use cookie cutters to make the most perfect cookies and we decorate them using our creativity. Now I see the same thing in houses and people. Most homes are made the same when it comes to new suburb houses and decorated pretty much the same way. People tend to stick with trend with their homes. Glass back splash, the in color, the perfect furniture.. list goes on and one right? where does it end when we can be individuals without falling into the cookie cutter category.

Leggings are in, those jeans are out! Long hair in, short hair out! It's crazy! If you didn't like leggings would you wear them anyway because it's the style this week? I hope I don't fall into the category. I hope I am my own person in every sense of the word. Think outside the box I say. Some things are just not meant to change and I love my bedroom the way it is. Not changing it to dark furniture because that is what the stores are selling. I want to change my room but with my own creative taste.

I have a thousand ideas and I know what I have to do. It will be different but it will be something I did myself and it will be timeless.

I watched a friend of mine redo her home recently and she pretty much copied everything right out of a magazine. Does it look new, absolutely. Nice, definitely. Yet I found it will be dated in about five years. These are trends and trends don't last for ever. I would only do this if I were selling my house in the moment.

Your home is yours and it speaks volumes of your personality, or it should. Don't be a cookie cutter!! Be yourself, love what you have and be sure that you like it.
Be an individual who thinks outside the box. We can still keep beautiful without following the golden rules.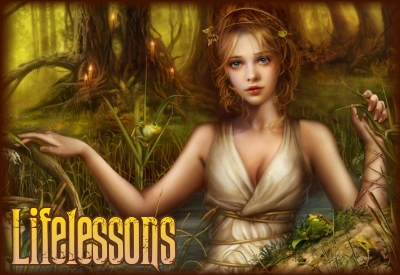 © Copyright 2016 ~Lifelessons~ (UN: lifelessons at Writing.Com). All rights reserved.
~Lifelessons~ has granted Writing.Com, its affiliates and its syndicates non-exclusive rights to display this work.
Log in to Leave Feedback
Printed from https://www.Writing.Com/view/2071486