Printed from https://www.writing.com/main/books/entry_id/915946-Creative-Saturday-Zoo-Amusement-Park
| | |
| --- | --- |
| | Entries for Blog City are here and maybe other surprises. |
#
915946
added
July 22, 2017 at 3:32pm
Restrictions:
None
Creative Saturday, Zoo, Amusement Park
Prompt: Creative Saturday

Ray and I went to the zoo yesterday. A little lion monkey climbed up a tree and went inside a little house and shut the door. It was a sliding door. It was so cute. He came out, went back in and shut it again.

There were four tigers behind glass and the one tiger kept coming to the glass and I rubbed the glass with my hand and he put his paws on the glass. I would love to have pet him. He kept going back and forth.

It is always nice to see snow leopards, the lion, bison and big ant eaters. There was a neat iguana I wanted to take home. He was light green and brown with big claws. He was huge.

Ray and I went to an amusement park today. We love riding this big platoon boat and takes us out over the water. There are so many fancy houses up there. The boat ride is nice. I went and fed these big bugle fish.

Creative Saturday. I have been off work 2 weeks. The mental health facility I worked at closed. I have been a Lady Of Leisure.

I wish I could have been in England this past week. Jane Austen died 200 years ago. There were speakers, performances of Jane's novels, talks, speeches about her, walks and everyone could dress up like Jane Austen and her characters. I live in Indiana in the US so I had to miss it.

I haven't been doing much. When GOT starts, I will have plenty to do. I hope my muse comes back soon.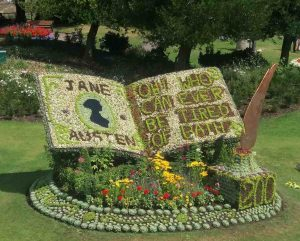 © Copyright 2017 Princess Megan Rose (UN: tigger at Writing.Com). All rights reserved.
Princess Megan Rose has granted Writing.Com, its affiliates and its syndicates non-exclusive rights to display this work.
Printed from https://www.writing.com/main/books/entry_id/915946-Creative-Saturday-Zoo-Amusement-Park