Printed from https://www.writing.com/main/books/entry_id/921595
| | |
| --- | --- |
| | Entries for Blog City are here and maybe other surprises. |
#
921595
added
October 8, 2017 at 9:38am
Restrictions:
None
Prompt: Lyn wants us to create a list of 13 favorite things in our life in honor of Blog City's 1300 Days. We have to say what makes them special.

1300 Blog Days? Really. Wow. Here goes. My List of 13 Things.

1. Writing. I love to write and I have a passion for it and enjoy creating stories and characters. I would like to make the world a better place and can do that by writing and hopefully makes others feel better for awhile. Writing puts me in a better frame of mind.

2. Animals. Sweet furry, cuddly, beautiful, cute animals. Look at their faces. That says it all. We need them and I wish people wouldn't abuse them. They can relate to animals. They can feel love.

3. Going to Lake Michigan or the ocean. I love the lakes and oceans. I like to picnic at Lake Michigan in the pavilion. My mother and I can see the lake waves coming in and all the seagulls. The water is so blue and beautiful. God makes beautiful scenery.

4. Shopping. I like buying new clothes, stuff for the house, books, collectible items, scrapbooking supplies and other things. Shopping relaxes me.

5. Watching movies. I love watching "Twilight", "Titanic", romance movies, Jane Austen novel movies, comedies, pirates and movies are entertaining. They help you relax and forget your problems.

6. Pictures. I enjoy pictures of animals at the zoo, places I have been to, pictures of friends and events. I get to scrapbook them.

7. Being able to go to Church and Bible Study. God is important to me and I want to go to Heaven when I leave earth. I like learning about Jesus.

8. The Christmas Store in Frankenmuth, Michigan. You can buy all kind of decorations there. It is Christmas everyday. I love Christmas. You can shop for 3 hours or all day. You can find all your Christmas decoration needs there.

9. Barnes and Nobles. I love reading books there and sitting at the Café and drinking Diet Pepsi and eating a Black Forest Chocolate Cupcake. I can put books on my Nook.

10. My Nook. I can store 200 Books or more. I ran out of room on my book shelves a long time ago. I can carry my Nook with me and it won't take up much space.

11. WDC. New friends, writing and a place to meet authors like me. I get to Blog, write anything I want and it shows up in my Port for others to read. We get rewards like Merit badges and Awardicons. Most of all, we don't have to wait on a publisher to publish what we write. It is all here even it never gets published somewhere else!

12. My cat Bella. She keeps me company when my husband is at work. She entertains me by playing with her toys. She sits with me on the couch. She likes being petted. She is beautiful and sweet.

13. Rain and the moon. I enjoy a good rain fall. It is soothing and relaxing. The moon is pretty and mysterious and makes you wonder what secrets it keeps and maybe someone is there looking back at us.

I forgot chocolate and Jane Austen! They inspire me!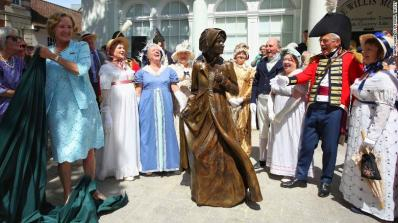 © Copyright 2017 Princess Morticia Megan Rose (UN: tigger at Writing.Com). All rights reserved.
Princess Morticia Megan Rose has granted Writing.Com, its affiliates and its syndicates non-exclusive rights to display this work.
Printed from https://www.writing.com/main/books/entry_id/921595