Printed from https://www.writing.com/main/books/entry_id/933028
| | |
| --- | --- |
| | Entries for Blog City are here and maybe other surprises. |
#
933028
added
April 18, 2018 at 10:13am
Restrictions:
None
Prompt: Your favorite fictional character is in your car with you and tells you to step on the gas. Here goes.

Bella Cullen is in my car and tells me to step on the gas. We are on our way to fight zombies! What? I am traveling 90 miles an hour and arrive at a open area by the woods and there are all the Cullens family and zombies! Oh no! It is quite a battle and these zombies are double ugly! I panic but I remember. I have a can of Zombie Be Gone in my glove compartment. I get it out and spray the zombies. They disappear. More have arrived and Lizzie, Darcy, Jane and Charles Bingley are fighting the zombies. I spray every zombie I see. I am out of Zombie Be Gone! Oh no. Only one zombie left. We can't seem to fight him off. I have two sprays left after all. I had better make it good. I spray the zombie and yes, he coughs and disappears! I hope this is it. All is calm now and I hug everyone. My favorite fictional characters. They invite me to dinner and I accept. The Cullen vampires can't eat but we talk and have a good time. Tomorrow, I am going to the Supernatural Store and buy cans of Zombie Be Gone and Vampire Be Gone just in case I meet a bad vampire. This has been a fun day.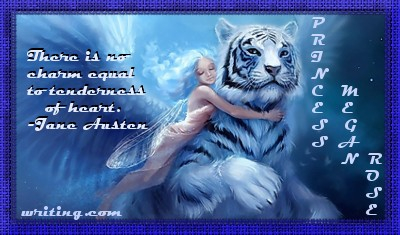 © Copyright 2018 Princess Morticia Megan Rose (UN: tigger at Writing.Com). All rights reserved.
Princess Morticia Megan Rose has granted Writing.Com, its affiliates and its syndicates non-exclusive rights to display this work.
Printed from https://www.writing.com/main/books/entry_id/933028